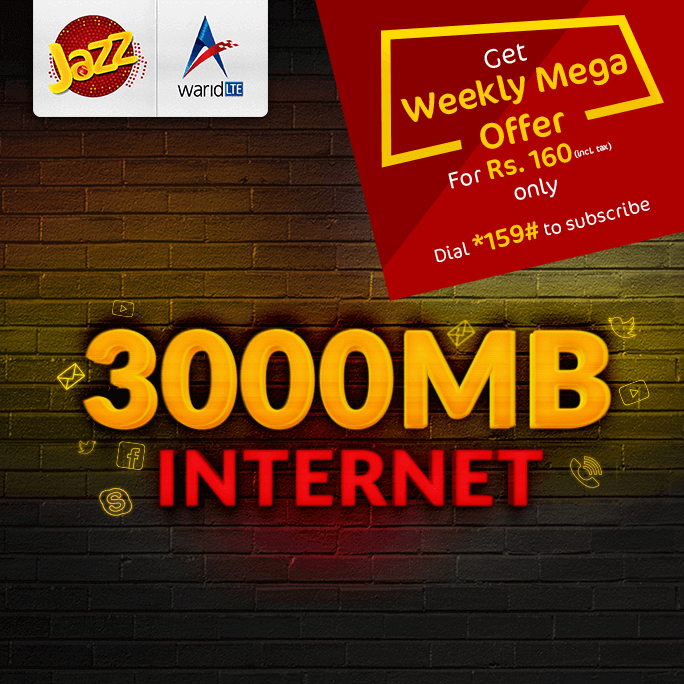 Jazz is one of the best mobile phone networks in the country. They have both 3G, and 4G internet connections available for the public. And, the user-base of the company consists of more than 50million users.
Jazz has introduced a new Internet offer named 'Jazz Weekly 3GB Internet offer.' The details of the amazing internet bundle are provided below.
Jazz Weekly 3GB Internet Details:
The Weekly Mega Bundle offer provides 3000 MBs or 3GBs of 3G/4G internet.
The price of the weekly internet bundle is just Rs.160 – it includes all taxes.
This offer is the most suitable for light to moderate Internet users.
How to subscribe?
The Jazz weekly 3GB Mega Internet offer can be subscribed by dialing *159#
The price of the package is only Rs.160 including tax.
It will be valid for seven days or one week.
Check Remaining MBs on Jazz
You can check the remaining internet MBs on Jazz by dialing *159*2#.
Please note: Jazz charges one rupee per MB if you go over limit.
The offer is non-recursive. It means it won't automatically re-subscribe itself. To re-subscribe again, follow the above method.
Terms and Conditions:
Check the remaining MB's and validity, also dial *159*2#
Overage of Rs. 1/MB applies for this bundle
Internet offer can also be subscribed and consumed in 2G/3G/LTE networks. These can be consumed at LTE or 3G speeds, if available and at best possible speed within 2G network
The speed if the internet on this offer will depend on multiple factors including the device, web pages accesses, time of the day and number of simultaneous users active on the 3G/LTE network in your area.
Regular rates for using Internet MBs on Jazz
If you are not subscribed to any bundle, you will also be charged according to base rate i.e. Rs. 3.59/ MB. Charging pulse will be 512 KB