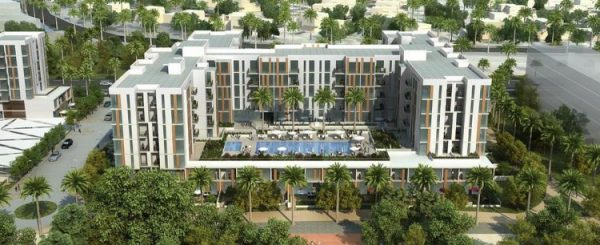 All you need to know about Mudon Views Apartments, including Location, Project Plan, Amenities, Pricing, and more.  
Mudon Views Dubai Location
Looking to invest in the luscious green lands of Dubai? Mudon Views at Dubailand is the ideal place for you! The Mudon Views Dubai properties is a well-developed residential project by Dubai Group offering a unique gated community with spacious houses and villas. The friendly and peaceful neighborhood of Mudon provides multiple leisure activities and extensive facilities such as schools, parks, clinics, and more. 
Moreover, the location of Mudon Views Apartments incorporates a sleek design that represents a modern architectural style and contemporary living. It provides access to some of the nearby destinations such as: 
– 23 minutes away from Burj Al Arab
– 24 minutes away from Al Maktoum International Airport
– 26 minutes away from Dubai Mall
– 31 minutes away from Downtown Dubai
Mudon Views Dubai Project Construction 
The Mudon Views Dubai floor plans include a seven-storey building encompassing 1,2, or 3-apartments and a two-floor duplex overlooked by a Mudon Central Park. With quality fittings and smooth finishes, the project comprises custom units at various prices and sizes. The luxurious apartments are connected with running tracks, attractive places, entertainment centers, fitness studios, and more. Also, the vibrant neighborhood is surrounded by lush trees, spacious parks, and open spaces offering a stylish and dynamic lifestyle. 
Mudon Views Dubai Amenities
Mudon Views Dubai Properties is the ultimate destination for you and your family offering modern facilities and top-class amenities. With landscaped parks, schools, jogging tracks, you'll experience the joy of peaceful living while accessing state-of-the-art facilities and leisure options. 
Everything you need to know about a modern lifestyle, you can get on the Mudon Views Dubai Brochure. It mentions a plethora of facilities and amenities such as: 
Fitness Gym

Cycling, Running and Jogging Tracks

Parks and Gardens

Sport Courts and Pitches 

Mosques, and Schools

Restaurant, Cafes, and Coffee Shops
Mudon Views Dubai Pricing
The unique Mudon Views Dubai Payment Option includes a 100% DLD fee waiver and 6 years post-handover payment plan. Further installment details are mentioned below:
Mudon Views Dubai Payment Plan 
Installment
Milestone
Payment
1st Installment 

2nd Installment

On Handover

Post-Handover (6 years)

  10%

  90%
Note: The plan may be subjected to future changes. 
The prices of Mudon Views Dubai apartments for sale are as follows:
1-2-bedroom apartments from 965 to 1814 Sq ft range between 1,150,000- 1,604,000 AED

3-bedroom apartment with 1485 Sq ft starts from 1,790,000 AED
These are tentative details and may vary at the time of booking.