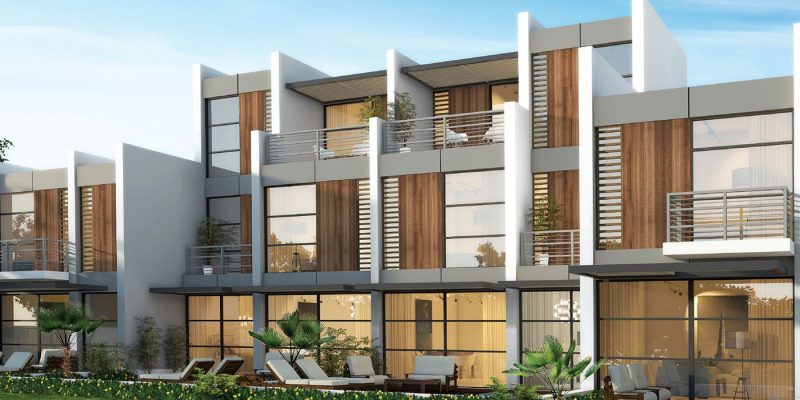 Everything you need to know about Damac Aurum Villas including Location, Project Construction, Amenities, Pricing, and more.
Damac Aurum Villas Location
Looking to purchase an elegant Villa with a luxurious lifestyle in the heart of Dubai? Look no further! Aurum Villas is the ultimate haven for you. The modern and unique project by Damac Properties surrounds itself with a happy and pleasant lifestyle while housing the great Trump International Golf Club. Aurum Villas propose wide luxury rooms with beautiful landscapes and a well-designed architecture combined with all high-end conveniences and amenities. 
Distances from some important places:
-25.52 KM away from Al-Maktoum International Airport
-26.79 KM away from Burj Khalifa
-28.48 KM away from Dubai Marina
Damac Aurum Villas Project Construction 
Damac Aurum Villas is the most well-sought and glamorous project with the finest open spaces, world-class facilities, and modern interiors. The project encompasses villas and townhouses in various sizes and arrangements, engrossed with lush greenery and sheer serenity. The breathtaking place has friendly and offers a healthy and active lifestyle.
Damac Aurum Villas Amenities
The well-constructed, self-contained Master development project in Akoya Oxygen provides healthy dining options, wide access to nature-filled and desert-inspired luxuries, unique architectural designs, markets, hotels, and more.
Located in the heart of the rainforest, the place further offers more specifications and amenities such as:
Trump International Golf Club

Private Gardens and Furnished Villas

Vista Lux Corniche

Schools and Nurseries

Organic Market 

Dining-in Options

Spa and Hydroponic café

Five-star Hotel and Suites

Hospitality and Entertainment Options

Other Recreational Spots
Damac Aurum Villas Pricing
The project Damac Aurum Villas provides a flexible payment structure with a 40/60 payment plan. For booking, it's 10% payment on the same date, 30% during construction, and 60% on hand-over. The payment scheme includes:
 
Installment
Milestone
Payment
(within sale date)
On Booking
10+4%
1st Installment
90 days
10%
      2nd Installment
180 days
10%
3rd Installment
270 days
10%
4th Installment
360 days
10%
5th Installment
450 days
7.50%
6th Installment
540 days
7.50%
7th Installment
630 days
7.50%
 8th Installment
720 days
7.50%
  9th Installment
 810 days
5%
 10th Installment
900 days
5%
11th Installment
990 days
5%
 12th Installment
1089 days
5%
Note: The plan may be subjected to future changes. 
The price of Damac Aurum Villas for sale is as follows:
3-bedroom villa from 1768 to 1884 Sq ft, starting price range is 1,554,000 AED
The price of Damac Aurum Villas vary in the future as this is an estimated one.