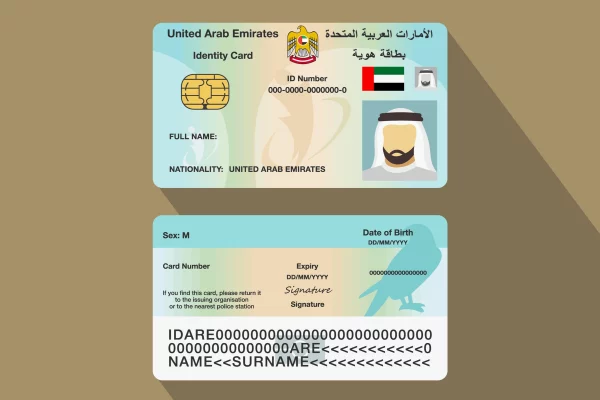 Like most circumstances, getting a driver's license in the UAE involves attending a driving school and passing a road test. Those with US driver's licenses, however, are exempt from this requirement because they can easily convert their current license to a UAE license easily. 
The United States is one of the countries where license holders can exchange their native country's driving license for a UAE driving license. How can they do that? That is what we are going to discuss in this article. 
In this post, we'll go over the steps and paperwork needed to convert a US driver's license to a UAE driver's license.
Please remember that in Dubai and other emirates, only US passport holders can convert their American driver's license without taking a road test. Some who have an American driver's license but are not citizens of the United States can still convert it to a legitimate UAE driver's permit after passing the theory and road driving tests.
DOCUMENTS REQUIRED FOR CONVERTING US DRIVING LICENSE TO UAE
For a successful conversion, holders of a US driver's license must prepare the following documents:
Original United States driver's license

Except for certain occupations, a copy of the original US driver's license NOC or No Objection Certificate from the sponsor is required.

A comprehensive form for replacing a driver's license.

Emirates ID must be valid and authentic.

Two passport-sized pictures and an electronic eye test verified by the medical authorities of the emirate in question

Document certifying a medical screening (for senior citizens above a certain age bracket)
Legal professions such as prosecutors, judges, lawyers, shipmasters, consultants, military personnel, doctors do not require an NOC document. Visit the RTA website for a complete list of NOC exempted occupations applying for a US driving license conversion in Dubai.
You'll have to take these documents to an RTA branch if you're converting your US driver's license in Dubai. They will then give you a legitimate UAE driver's license, allowing you to drive legally in Dubai.
If you want to convert your US driver's license in Abu Dhabi, you must go to the Mushrif Drivers' Licensing Department. The procedure of converting your US driver's license may take longer in Abu Dhabi, but you should obtain your new permit within a week. If you don't have to take the road test, the charge to transfer the license is normally under AED 1000, however it is subject to change based on policy modifications. 
According to the RTA website, the fees for converting a US license to a Dubai license are as follows.
The cost of opening a file is AED 200.

The cost of issuing a license is AED 600.

AED 50 for a manual handbook

Knowledge and Innovation fees of AED 20
HOW TO CONVERT US DRIVING LICENSE IN UAE?
EYE TEST CERTIFICATES
One of the conditions for applying for a US driving license conversion to a UAE license is an eye test and a post-test optician certificate. Some optometrists provide this treatment for no charge, while others may charge a nominal price. The cost varies depending on which emirate you apply for. Some service centers include on-site opticians, which helps to speed up conversions.
VISIT THE DRIVING LICENSE CENTER IN THE UAE
To convert your US driving to UAE, you will have to visit the traffic authority office in the emirate.
All applicants are required to have the aforementioned documents with them at the center in addition to a passport copy, residence visa and original passport. 
You will need the following documents to convert your driving license in UAE:
A photograph 

Visit to the traffic authority of the emirate you reside 

For US citizens who are residents in Dubai, Abu Dhabi or any other emirate

The process is pretty straightforward thanks to the exemption of driving tests
You can check out the Dubai driving license guide to increase your chances of passing the Dubai road test in the first try.