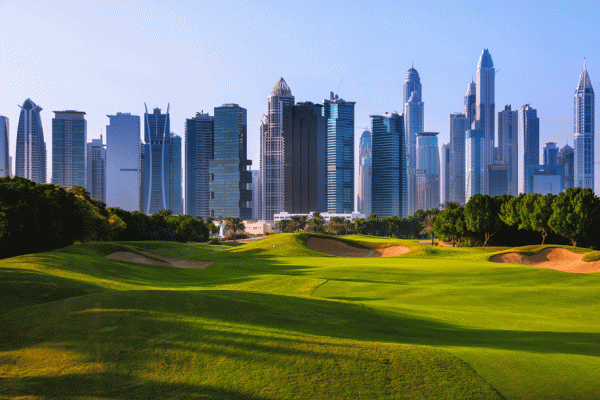 Golf is a great way to enjoy the outdoors and get some exercise while playing on one of Dubai's top golf courses. With major tournaments happening all year long, there's always something exciting going down in this emirate!
Dubai Is Heaven For Golf Enthusiasts, Especially If You Want To Play Golf In Dubai
Karl Litten, Gil Hanse, and Nick Faldo are just three of the many notable names contributing to Dubai's golf course architecture. A visual feast for both golfer and photographer alike, these courses feature rolling terrain with breathtaking views from every angle imaginable if you play golf in Dubai.
A Dubai golf course is not just a place where people can play the sport; it's also an experience that will test your skills with devilishly challenging courses such as Majlis Course.
Golf Hotels and Resorts in Dubai
One of the best ways to experience golf in Dubai is by staying at a hotel that has access to not just one but two courses. For example, JA The Resort offers guests three accommodations options so they can play golf in Dubai and relax afterward:
JA Beach Hotel – right on top of beautiful beaches; Palm Tree Court, which provides luxury rooms with sparkling pools views from every window or Lake View lodged high up above it all while being steps away from some fantastic courses!
Commonly Known 18-Hole Championship Golf Courses In Dubai
Arabian Ranches Golf Club
The landscape of this golf course is a sandy wilderness that provides an exciting setting for playing the great game. The immaculate fairways and expansive deserts make up one side, while missed shots are punished by being stuck in 'the wasteland' – where there's no water or shade to be found!
Dubai Creek Golf & Yacht Club
The Dubai Creek Golf & Yacht Club is a must-play for golf fans. With its iconic sail-shaped clubhouse that embellishes one of the city's waterfront areas and championship course with fairways containing plenty of water hazards, it's no wonder this 18 hole layout has been home to many poetic challenges over time!
Dubai Hills Golf Club
The Dubai Hills Golf Club is an 18-hole par 72 layout opened to the public in 2018. The course has rolling fairways lined with strategically placed lakes and bunkers, making it one of a kind! With breathtaking views from Burj Khalifa, especially on hole nine, you will not be disappointed by what this destination golf club offers.
Montgomerie Golf Club
The golf course at Montgomerie is designed by Colin Montgomerie, who specializes in putting together courses with many environmental features. The 13th hole has greens shaped like UAE's flag!
The Els Club
If you love golf, The Els Club is the place for your game. This exclusive private club in Dubai Sports City has four tee boxes per hole so that players of all handicaps can enjoy their time on this fantastic course
Trump International Golf Club
Trump International Golf Club delivers an unparalleled five-star golfing experience in the heart of DAMAC Hills. This championship-style course can be played between 5,200 – 7K yards and is friendly for all abilities with nine holes par-three academy course available as well if you're looking to perfect those strokes or want a quick game!
Best Conditions To Play Golf In Dubai
Dubai is known for its hot and sunny climate, with temperatures reaching 45°C (113 °F) in July or August. Golfers will find the best times to play golf between December-February when it's calm but still pleasant outside. However, if you don't mind the heat, summer sales are great too!