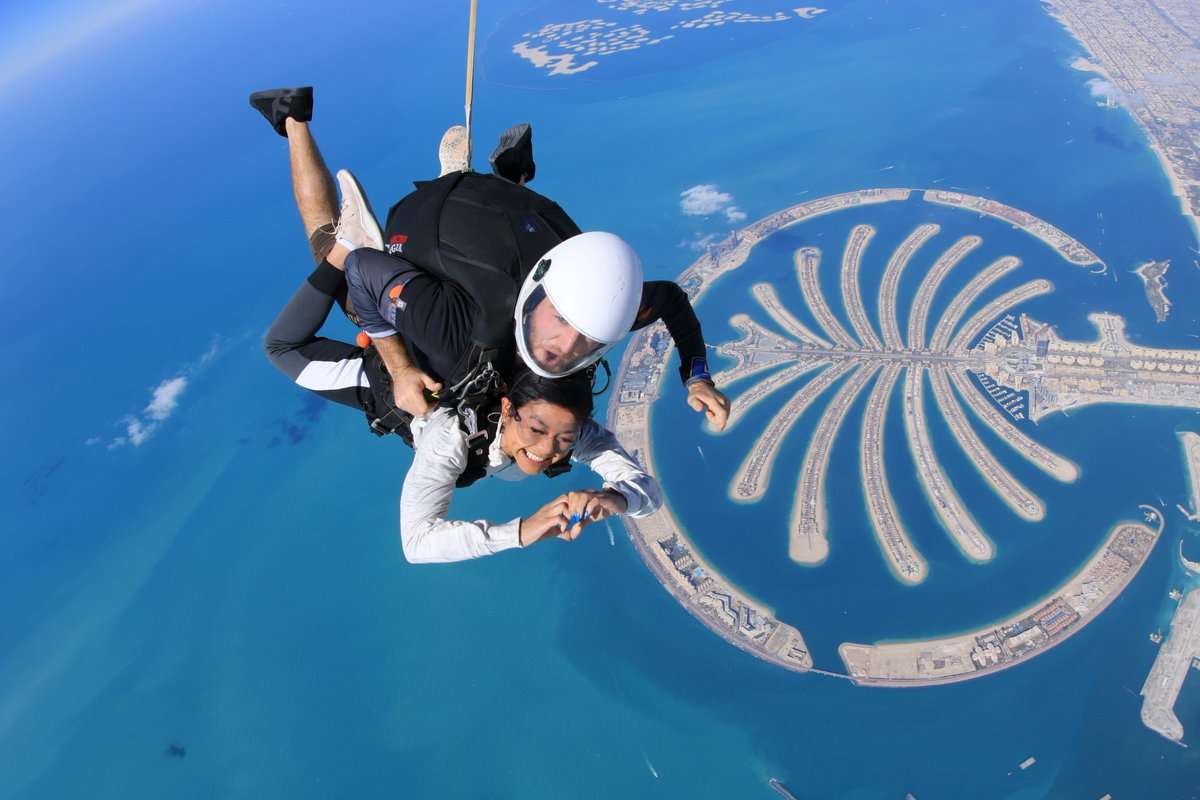 Dubai also produces the best experience in the sky. If you are looking for skydiving experience right in the heart of Dubai, then there are a few places you can get that. In this article, we will tell you about top skydiving places in Dubai, there cost, location, and details.
What is Dubai Skydive?
Nasser Al Neyadi created Skydive Dubai in 2010 when Dubai held the first international skydiving competition in the Palm Drop Zone.
Dubai Skydive now has a great reputation for safety and expertise, since Skydive Dubai is one of the world's premier skydiving businesses and has become one of the most significant tourist destinations in Dubai in recent years.
Skydiving in Dubai: Complete Information 
Skydiving in Dubai is a must-do attraction in Dubai and the first destination for skydiving lovers in the city, as well as the largest club offering this activity in the Middle East with the best safety and security requirements.
The place Skydive Dubai is a center for tandem parachuting along with photos & video, plus gyrocopter tours. 
When you go skydiving with Skydive Dubai, you can be certain that you are in good hands, since Skydive Dubai employs experienced skydivers with thousands of jumps under their belts. They also hold many Guinness World Records and have created two fantastic skydiving locations.
Locations for Skydiving in Dubai
Skydive in Dubai manages all skydiving operations in Dubai. In the desert outside of Dubai, this company runs the world's largest outdoor skydiving school. The leaping takes place in two beautiful sites in Dubai: the 'Desert Campus Drop Zone' and the 'Palm Drop Zone.'
Skydive Dubai Desert Campus Drop Zone:
The Desert Campus Drop Zone is located just outside of Dubai, near the motorway that connects Dubai and Al Ain. This desert jumping location also has a school. You will enjoy breathtaking vistas of the desert dunes leading up to Dubai's skyline while skydiving.
Skydive Dubai Palm Drop Zone:
The Palm Drop Zone is Skydive Dubai's most luxury jumping location and the most popular method to skydive in Dubai. Skydiving at the Palm Drop Zone will provide you with an amazing spectacular experience over the majestic Palm Jumeirah and Dubai's stunning skyline. Ain Dubai (the world's largest Ferris wheel), Palm Jumeirah Island, Atlantis Hotel, Burj Al Arab, The World Islands, and Dubai Marina all provide spectacular vistas.
Dubai Skydive: 
A skydiving center in the heart of Dubai offering tandem parachuting along with photos & video, plus gyrocopter tours plus training for beginners. It also offer USPA A License for skydiving.
Skydiving in Dubai Price 
How much does skydiving in Dubai cost? The cost of skydiving begins at about AED 1700. The Palm Zone skydiving, on the other hand, costs about AED 2200. There is a package in which you may choose both campuses; however, the fees for this vary.
The Desert SkyDay location – Desert Campus Drop Zone – has a skydive Dubai pricing of 1699 AED. 

The Palm Jumeirah SkyDay location – Palm Drop Zone – costs 2199 AED for a jump in Dubai.
Through the Tandem Skydive method, Dubai Skydive provides skydiving instruction for novices. You can see the dates and pricing of Skydiving Dubai on the official website of Skydive Dubai for additional information and skydive Dubai booking.
Skydive Dubai Timing
Sky Dive Dubai is open everyday from 8 a.m. until 4 p.m. It is open every day except Sunday.
Requirements for Skydiving in Dubai
You must be at least 18 years old to participate.

Passports or a valid picture ID, such as your Emirates ID/license/government driver's ID card, must be carried.

Prior to the jump, those over the age of 70 must get a medical certificate.
Skydive Dubai USPA A License
A total of at least 25 skydives

Pass all of the A license proficiency card criteria.

Pass both the written and oral exams.

Once you've passed, you'll be able to jump in drop zones without supervision and even with other license holders.

The cost of Skydive Dubai for the USPA A License is broken down below. COST OF SKYDIVING IN DUBAI FOR THE USPA A LICENSE
Indoor Skydiving in Dubai
The tunnel in-flight Dubai is one of the biggest in the world, measuring 16.5 meters in diameter. Divers can enjoy the thrill of outdoor and indoor skydiving at Skydive Dubai, which is conveniently located near the desert zone. They also hold sporting contests on occasion.
Price for Indoor Skydiving in Dubai
:
AED 262 for 2 mins

AED 497 for 4 mins

AED 706 for 6 mins

AED 889 for 8 mins

AED 1,048 for 10 mins
Address: E 66, Skydive Dubai Desert Campus The ideal time for first-time flyers is 2 to 6 minutes. You will learn the basics of indoor skydiving and also enjoy the whole experience.