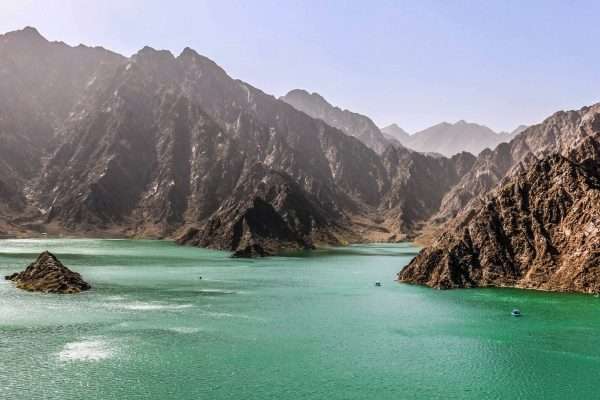 Hatta Has A Great Place To Visit And Lots Of Things To Cheer!
It's not every day you get to escape the hustle and bustles of life in Dubai, but an ideal trip would be Hatta. With its stunning views from kayaking beyond that famous dam or exploring centuries-old heritage villages, there is no shortage of fun things for families (and even solo travelers)to do while visiting this beautiful destination!
List of Places To Visit In Hatta
Hatta is a serene escape between Dubai's bustling city life and relaxing beachfront resorts. Stretching approximately 130 kilometers away, this small town has seen exponential growth in recent years, with new construction leading up to alluring views of the mountains from every direction- perfect for adventure seekers!
Hatta Wadai Hub: Get an Adrenaline Rush
Adrenaline junkies and looking for places to visit in Hatta then you will love this. With countless adventures and thrills, this is one of those must-visit attractions that's not only fun but also helps you stay fit!
The Centre offers a wide range of adventure sports such as zorbing (inflatable Toboggan), football zorbing inflatable obstacle courses, tube sliding archery net walkway zip lining, etc.,
Visitors from all walks of life can enjoy this, including families with children who want some time away from their daily routine.
Explore Hatta Dam By Kayak
The stunning Hatta Dam is a must-see for any visitor to the city. Surrounded by mountains and home to a sparkling lake that's ideal for kayaking in Hatta, it will always take your breath away when you first see how beautiful this natural wonder is!
But don't forget about those weekends where the crowds are at their heaviest – make sure not to get caught up on bad weather days as there can be lightning storms too which mean no outdoor activities like hiking or sightseeing from above ground level due to dangerous conditions such as high winds gusts down below 30 mph.
Hatta is a beautiful area with many things to discover, and it's easy for visitors if they have their car. Suppose you'd rather walk around though there are also many options available, including taking the dam or exploring on foot!
Hatta Heritage Villa: Get Eye-Catching Sight
From Hatta Dam, head to the Hatta Heritage Village. One of the best places in town for a glimpse into life as it once was and is still remembered today with old memories preserved by people who have lived through them before us – sometimes even better than what we can imagine ourselves doing!
At this historic site, visitors will find an Emirati ruler's house that has been restored alongside other artifacts such as weapons or musical instruments from days gone by when time stood still here on Earth.
It's easy enough not only to go exploring in Dubai but also learn about our shared history while being entertained too; don't forget your camera, though, because there are plenty more photos opportunities available.
When it comes to shopping, there are so many things you can do! Pick up authentic and locally produced handicrafts as well as heritage items. Don't miss out on picking up some of these unique souvenirs during UAE National Day.
Mountain Biking in Hatta
The thrill is in the pedals. If you don't have time for an all-day bike packing adventure, make your way to Hatta and explore some of its more popular biking destinations—you won't regret it!
Timings for mountain biking in Hatta: 6am – 7pm 
Price varies depending on whether there's a group or individual ride but will be around AED 45/ hour (kid)

Mid Range at about AED 75 per person

Premium tours running along similar lines costing closer onto MYR 100
We hope that you liked the list of Places to Visit in Hatta. If you are visiting Dubai or UAE for the first time, keep Hatta village in your list!