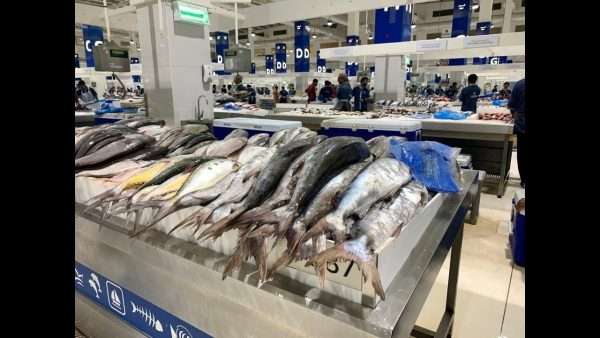 The waterfront Deira Fish Market, has been around for as long as anyone can remember, is well-known to some of us. Residents and expatriates alike come to mingle, enjoy slow walks, and, of course, snap nice pictures, in addition to buying seafood at excellent rates.
Many of us will undoubtedly miss the old markets when it closes entirely by the end of the weekend. But there's no need to be concerned because a new industry has seized its place. Waterfront fish Market, a 100,000-square-meter complex located along Al Khaleej Road, is vast.
Waterfront Market Replaces Old Deira Fish Market
As the title suggests, Waterfront Market is located along the seashore, which will ultimately be packed with great restaurants, coffee houses, and retail stores. You may pick from an extensive range of fresh seafood, meat, fruit, and veggies here.
Visitors may expect a clean, wind environment with cutting-edge odor control devices at the niche venture. The massive building can host up to 500,000 guests every month.
The fish portion of the old waterfront Deira Market has shut. However, the fruit and vegetable areas remain operational. However, after Ramadan, we will purchase fresh seafood and produce just at the new Waterfront Market.
Why Dubai Deira Waterfront Fish Market is Famous?
The Deira market is a flurry of activity. As you go through the lovely hallways of the location, you'll notice a variety of fish that the fisherman have lately captured. Further exploration will reveal all of the fresh seafood brought in both locally and from other countries such as Oman and India. This market sells apparel needs as well as various items in addition to fish, fruits, and vegetables. It contains five separate food categories that around 5000 people come each month to buy groceries.
Prices are Cheaper at Deira Waterfront Fish Market
The costs of the things are far lower than those of other businesses, so you won't have to argue over them. The Deira Waterfront Market also features eateries and cafés where you can relax after a long day of shopping with a tasty meal or a fresh drink.
Deira Waterfront Market Dubai Location
The waterfront Deira Fish Market, Fruit & Vegetable Market, and Meat & Poultry Market is located on the waterfront near Deira enrichment project.
You can take a bus to the Dubai deira fish market. Or, you can also take careem or taxi to reach the place. It is also near Al Kuwait and Dubai Hospitals.
Seafood at Deira Waterfront Market
Kingfish, hammour, giant Omani prawns, and other more sustainable alternatives such as jesh (yellow bar angelfish), faskar (two-bar seabream), and shari are available in the seafood department (pink ear emperor). There are 43 vendors offering dried fish and 18 shops selling live crabs and fish from the aquarium among the 435 stalls providing raw cuts.
Meat at Deira Waterfront Market
If you're craving meat, there are also excellent cuts of lamb, cow, chicken, and camel available. These cuts, which are divided into distinct stands, are either manufactured locally or imported from overseas. All of it is fresh, so you don't have to worry about the quality of your cut.
Fruits & Vegetables at Deira Fish Market
The meats at the main attraction, but if you go a little deeper, you'll discover a rainbow of fruits and vegetables produced from local farms in the city and neighboring emirates. Some of these fruit baskets cost as low as AED 1, so purchasing a range of locally produced fruits at once, such as delicious jujubes, figs, and pineapples, would be a practical alternative for you.
Contact Information of Deira Market Dubai
Telephone: 800 627538 

Address: Deira Enrichment Project – Al Khaleej Rd – Deira – Dubai
Timings of Deira Waterfront Market Dubai
The best part about the Deira Waterfront Market Dubai is that it is open 24 hours. So, you can go almost at any time to buy grocery and food for your home.