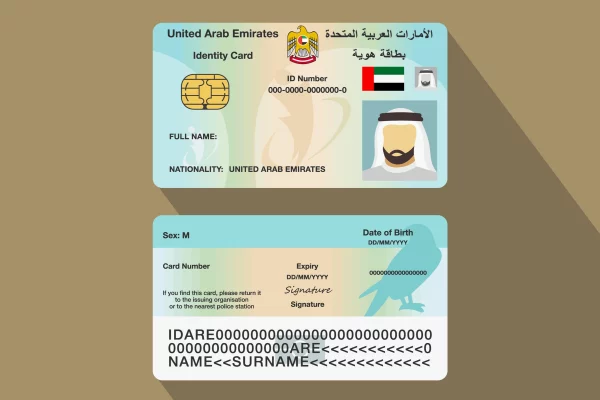 WHAT TO DO WHEN YOU HAVE LOST YOUR EMIRATES IDENTIFICATION?
Here is a step by step procedure in case you lose your Emirates ID card.
Report the Incident

Application Process

Fees

FAQs
An Emirates ID is an ID card issued by the Federated Identity and Citizenship Authority (ICA). If you live in the United Arab Emirates, you need to be aware of the importance of this map. All UAE citizens and residents should always carry it with them. Here's what to do if you lose your Emirates ID in the United Arab Emirates.
STEPS TO FOLLOW
If your Emirates ID is stolen, lost, or damaged, you need to do the following:
REPORT TO THE RELEVANT AUTHORITY
The first step you have to take is to report the incident to your nearest ICA Customer Satisfaction Center. Carry a valid ID so that the center can immediately revoke the card. You can also request a copy of your lost Emirates ID. If you need to report a damaged card, you will also need to bring your old card. 
To report an incident, you will need to bring the following as proof of identity:
United Arab Emirates Citizens: Family-friendly books

with valid original

passports

 

GCC Nationals:

Valid

Employment Certificate

or

Card, School Certificate, Valid Marriage Contract, Trade License, Real Estate Contract, Real Estate Rent

or

Dependency Certificate

 

Expatriate:

A valid passport

stamped

with a valid

residence

permit 

Children

(under

15 years old):

Parents

are required

to

show their

original birth certificate and

color

passport photo (white background).
REQUEST A REPLACEMENT FOR YOUR EMIRATES ID CARD
 After reporting an incident, you should immediately request a replacement for your lost Emirates ID. You will need to submit a form to complete the process of replacing your lost Emirates ID card. An application to apply for a replacement ID is available at the ICA Customer Happiness Center. For online forms, please visit the official ICA website. You can also use the ICA VAE app to submit an application form and continue your request.
The price for the replacement of lost Emirates identification in Dubai is AED 300
PAY THE FEES
The details of the replacement fee for lost, stolen or damaged Emirates ID are as follows. 
Exchange fee:

AED 300 

Application fee

at the

typing

center:

AED 70 | Via eForm: AED 40 
You will need to submit the fee with your application. All UAE citizens, GCC citizens, and expatriates are eligible for these rates.
COLLECT NEW CARDS
When you apply for a replacement ID, ICA will send you an SMS with the application and the estimated delivery date. It will take 2 business days for a new Emirates ID to be issued. After receiving the SMS notification from ICA, you can contact the Emirates Post to inquire about your new Emirates ID. The customer center number is 600599999.
FREQUENTLY ASKED QUESTIONS
 Q1. How do I contact the ICA Call Center for questions regarding ID card exchange? 
If you have any questions or assistance regarding the replacement of your lost Emirates ID card, please contact ICA (600522222). 
Q2. How much does the Express ID Exchange Service cost? 
For the additional AED150, you can use the ID Express Exchange Service at the ICA Main Customer Happiness Center.
 Q3. What if someone shows my stolen ID card to one of the registration centers? 
Your Emirates ID Customer Service Representative will notify you that your card has been collected. 
Q4. Why is Emirates ID so important? 
The Emirates ID certifies the identities of all residents of the United Arab Emirates. In addition, Emirates IDs have many other uses, from just entering the airport to handling health insurance for UAE citizens and residents. Please note that lost Emirates IDs should be revoked immediately.
Q5. How do I update my Emirates ID card information? 
Emirates ID owners can access their nearest Federal ID and Citizenship Office to change their personal information. Emirates ID renewals must be reported at least one month before the change takes effect. 
Q6. How do I update my Emirates ID? 
Renew your Emirates ID online or visit the Federal Identity Citizenship (FAIC) Service Center. Dubai's Customer Happiness Center and Certified Writing Center also offer these services. This concludes the guide for replacing your lost Emirates ID. According to the latest update, you can change your Emirates ID. You can use your Emirates electronic card while you wait for your physical card to arrive.