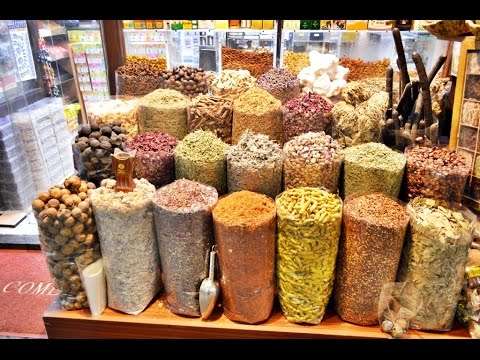 Every shopaholic's dream comes true in Dubai. There are various shopping locations in Dubai, ranging from gleaming malls to historic souks, providing it all from expensive goods to cheaper options. However, the busy historic markets such as the Grand Souq Deira, also called the Dubai Spice Souk, are where the genuine soul of buying in Dubai can be found.
The Spice Souk in Dubai is a well-known tourist destination. A visit to the Spice Souk in Dubai is on everyone's bucket list, whether they're seeing the town on their own or even as guests of a Dubai Hop on Hop off Bus Tour. Let's see what makes this souk a must-see for both tourists and locals. 
What to look for at the Spice Souk Deira in Dubai?
The Spice Souk is located in Deira, Dubai's economic and cultural center one of the city's oldest neighborhoods. The souk is noted for its winding passageways and shops brimming with spices from all over the world.
The Spice Souk is a magnificent mix of brilliant colors and scents that draws a significant number of people. Learn about what this well-known market has had to offer.
Several shops in the Dubai Spice Souk sell high-quality saffron. Saffron is among the world's most valuable spices, appreciated for its unique aroma and color. The spice can be found in a variety of cuisine, notably Indian, Pakistani, and Arabic.
Visitors in the Spice Souk Deira are taken on a spectacular tour into the realm of spices. At these marketplaces, smell the earthy aromas of cumin and cinnamon, or the Smoky aromas of pepper and red chili. Spices are brought in from all over the world. India, Pakistan, Iran, Turkey, and other Middle Eastern and Asian countries are amongst the most important spice market segments. The Spice Souk in Dubai sells a variety of spices, dates, fresh fruit, as well as other delicious delicacies.
The Grand Souk Deira also sells candles and a variety of aromas. In artfully placed burlap sacks, guests can acquire oud (agarwood), vital oils, and Arabic perfumes. The powerful yet pleasant aroma of oud has got popular in the UAE and the Middle East. Bakhoor, a mild and light variant of oud, is also available at several locations in the souk. Bakhoor is created from agarwood chips that have been steeped in sandalwood and jasmine to give it a sweeter, lighter scent.
The Deira Grand Souk contains about 150 shops selling a variety of goods. Buy common grocery products such as grains, legumes, herbs, spices, and more for a moderate cost at the market.
Discover Gold Souk Nearby 
The Spice Souk is at a short distance from Dubai's Gold Souk. The Deira Gold Souk has a fantastic collection of stones and jewelry. Hundreds of retailers sell unique jewelry from everywhere in the world in a variety of styles and patterns.
There is plenty to satisfy all interests and styles, from elaborate Italian design to captivating Indian jewelry.
FAQs about Dubai Spice Deira
WHAT IS THE LOCATION OF DUBAI SPICE SOUK DEIRA?
The Spice Souk in Dubai is situated near the corner of Baniyas Road and Old Baladiyah Road in the famed Deira district.
WHAT ARE THE DUBAI SPICE SOUK DEIRA TIMINGS?
The Spice Souk Deira Dubai is accessible from 7:30 a.m. to 9:30 p.m.
HOW DO I GET TO THE SPICE SOUK DEIRA IN DUBAI?
The Spice Souk in Dubai can be reached in a variety of ways.
By Car: RTA space is near the old souk if you're driving in a car.

By RTA Metro: Tourists may get to Dubai's Deira Spice Souk by using the Green Line to Al Ras Metro Station.

By Abra: One alternative for getting to the Spice Souk in Deira is to ride the Abra from Dubai Creek to the Deira Old Souk Abra Station.

By Bus: Tourists can get to the Deira Old Souq 1 RTA Bus Station by taking the C07, C09, or C28 RTA buses.
Aside from the Dubai Spice Souk in Deira, the Perfume Souk and the Textile Souk are two additional souks worth seeing in Dubai. Because the Spice Souk is in Deira, there are a variety of additional attractions in the city to do in Deira, such as eating a genuine Emirati meal, touring the waterfront market, and much more.
A historic landmark to see in the region is the Deira clock tower. Staying in one of Deira's beautiful hotels can help you pinpoint a great location to stay without breaking the bank.