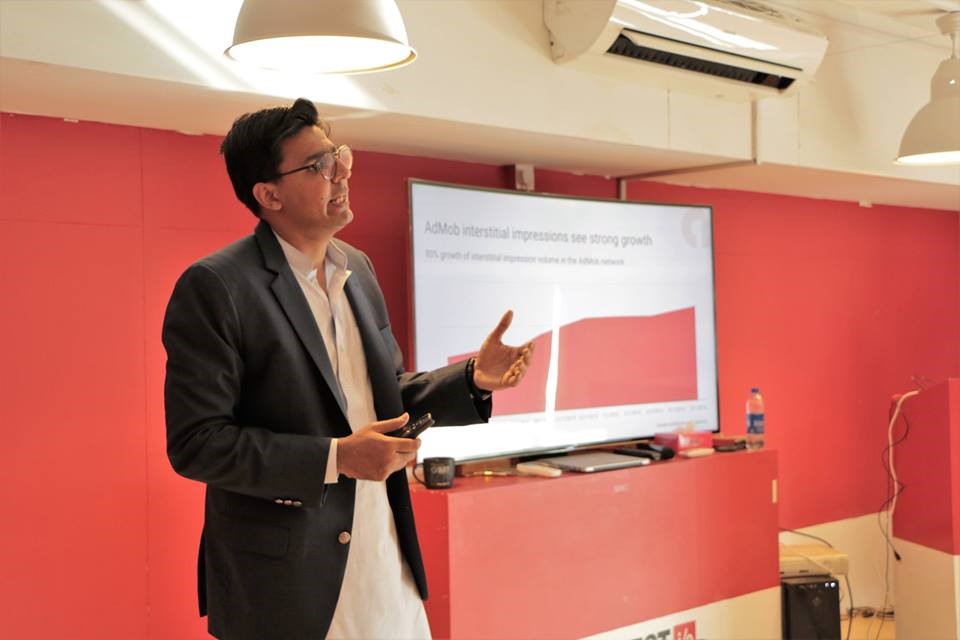 Google Regional Manager Ahmad Shah Nawaz says that there are now more smartphones than humans and this is the right time to start monetizing your apps.
A session on Mobile app monetization 'Monetizing Apps using Admob and Firebase' took place on Oct 23rd, 2017, at the Nest IO. The purpose of the event was to make Pakistani mobile app developers aware that there are millions of app developers earning through apps.
In a third world country like Pakistan, in-app purchases are still a dream because digital currency is still in its infancy that's where the Google Admob, a mobile app advertisement platform, fills the gap. Admob is already in use by many mobile developers in Pakistan not to forget We r Play studio.
Nawaz showed trends of how mobile developers have already increased in numbers and surpassed the web developers in North America and Middle Eastern regions.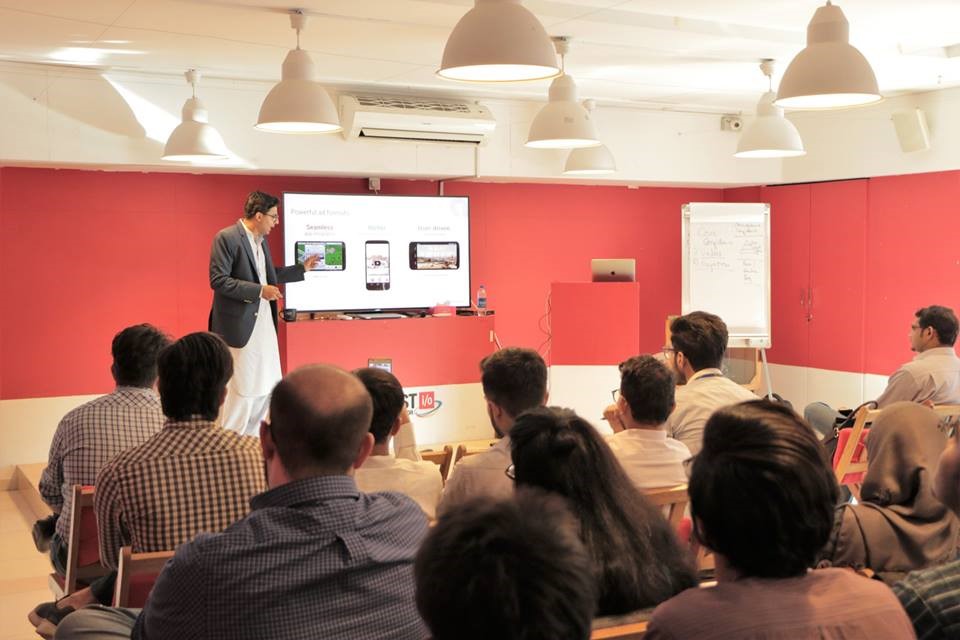 He further added that India and China are two of the fastest growing countries in the region in terms of app developers. And, recently India surpassed the US in terms of mobile app revenue.
He played a slide of hill climb racer's developer. The developer saw 40 percent increase in his revenue after he integrated admob.
'Have you seen a billboard? Not all people take note of it but it still generates tons and tons of leads and that's why businesses rely on it. Same is the model of app based ads. Not everyone will click on it, but some will surely do,' Nawaz said while explaining the nature of Mobile based ads.
The session was divided into three sub-sessions including Intro to mobile app monetization, features of admob and firebase, questions and answers.
Mobile app monetization:
According to Nawaz, any medium through which you can monetize your app is an app monetization medium. The mobile game developers had no means of earning money so they introduced the in-app purchases option. But, no one in Pakistan makes in-app purchases. Therefore, a new medium is needed here so users can earn money.
As per Nawaz, 'many publishers are earning sustainable income just through admob.'
Admob and Firebase:
Admob is a mobile advertisement platform just like adsense. You can integrate it with firebase to get in-app analytics such as where the users are clicking, which app activity is hot and similar analytics that can help you carve a better user experience.
Things to note:
Interstitial ads can make you more money but they are 'aggressive'
Don't use illegal content with admob because you will get caught
The fewer ads you show the better your revenue will be
Use admob campaigns to show your own app ads and get more users
Ad categories can be turned off if your app belongs to a sensitive category such as religion
Question and Answers:
What are the app marketing methods?
Nawaz said that there are three ways to market an app including paid marketing, app store optimization, viral marketing (social)
Which ads will work the best for my apps?
The ads depend on location. If the users are from Asian countries you will have lower RPM. To get better RPM, target US based audience or 'export audience.'
He showed the example of Appkruti solutions, a camera filter app that has both in-app purchases and in-app ads integrated. The app has been downloaded 10 million times.
Which types of apps should I make in Pakistan, lifestyle or games?
Nawaz said it doesn't matter which type of apps you make because if the execution goes well the users will automatically download it. But he said that games have a small lifespan, while lifestyle apps tend to last longer.
Picture credits: Nest IO Facebook page