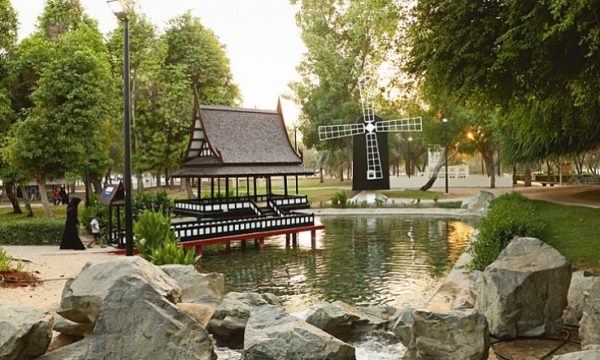 Mushrif Park is one of the most beloved parks in Dubai. Located in the heart of the city, it is a great spot for families and friends to spend time together, as well as a wonderful place to explore and discover the natural beauty of the United Arab Emirates. This blog will explore what makes Mushrif Park such a special place, from its unique attractions to its many recreational activities, and how it has become a beloved destination for locals and tourists alike.
Entry Ticket Price Mushrif Park in Dubai
The entry ticket price of Mushrif Park in Dubai is AED 5 for adults and AED 3 for children.
Location of Mushrif Park Dubai
Located in the heart of Dubai, Mushrif Park is an oasis of greenery and serenity. Established in 1983, this sprawling urban park covers an area of 300 acres and is the largest park in the city. It is an ideal spot for escaping the hustle and bustle of the city, and it is perfect for families, friends, and individuals looking to spend a relaxing day outdoors.
Main attractions at Mushrif Park 
Main attractions at Mushrif Park include the Children's City, which is a miniature city made up of educational and interactive exhibits, as well as the Camel Farm, which is home to a variety of animals and birds. Visitors can also explore the park's numerous gardens and walkways, as well as enjoy a game of cricket or football on the field. The park also holds regular events and exhibitions, such as art exhibitions and performances by local musicians.
Facilities at Mushrif Park 
Mushrif Park offers a range of amenities, such as restrooms, food and drink options, and rental services for bicycles, kayaks and inflatable boats. The park is also accessible for visitors with disabilities, and there are ramps, elevators and accessible pathways.
Best Time to Visit Mushrif Park 
When it comes to visiting Mushrif Park, the best times to visit are in the morning or early evening, when the temperatures are cooler. Visitors should also bring plenty of water, wear comfortable shoes, and dress appropriately for the weather. There are plenty of activities to do while at the park, such as cycling, fishing, kayaking and bird watching.
Tips to Visit Mushrif Park in Dubai
Plan your trip in advance: Mushrif Park is a large park and can be difficult to navigate if you don't plan ahead. Make sure to check opening times and decide which areas of the park you want to explore.

Wear comfortable shoes: The park is full of lush vegetation and long winding pathways, so make sure you wear comfortable shoes and clothing.

Bring plenty of water: Although there are a few cafés within the park, it's a good idea to bring plenty of water to avoid dehydration in the hot Dubai weather.

Visit the Children's City: This is a great area of the park where children can learn about science and technology through hands-on activities.

Check out the horse riding: Mushrif Park is home to a horse riding center where you can take part in guided rides.

Visit the Mughamarat: This is a cultural center within the park where you can learn about the UAE's heritage and culture.

Bring a picnic: The park has plenty of grassy areas, so why not bring a picnic and enjoy the scenery?

Take advantage of the free WiFi: The park has free WiFi, so you can check emails, share your photos and stay connected while you explore.

Take a camera: There are plenty of opportunities to take some beautiful photos of the park's flora and fauna, so make sure to bring a camera.

Enjoy the outdoor activities: The park is full of outdoor activities, from tennis courts to mini-golf courses, so make sure to take advantage of them.
Activities to Do at Mushrif Park in Dubai
Camping – Mushrif Park offers camping sites and campers can enjoy many activities such as BBQ, swimming, fishing, and bird watching. 

Cycling – There are several cycling tracks in the park that offer a great way to explore the park and its attractions. 

Horse Riding – The park offers horse riding lessons and guided tours of the park. 

Picnicking – There are several picnic spots in the park where visitors can relax and enjoy the beauty of the park. 

Bird Watching – The park is home to a variety of birds and offers a great opportunity for bird watching. 

Kayaking – The park has a number of kayaking routes that offer visitors a chance to explore the park from a different perspective. 

Barbecue – There are a few designated barbecue spots in the park where visitors can enjoy a meal with friends and family. 

Mini Zoo – The park also has a mini zoo where visitors can observe different animals and reptiles. 

Mini Golf – The park has several mini golf courses that offer a great way to enjoy the park with friends and family. 

Outdoor Cinema – The park also offers an outdoor cinema where visitors can watch different movies or shows.
Conclusion: Mushrif Park, an Amazing Experience!
In conclusion, Mushrif Park is an amazing urban oasis in Dubai, offering a range of activities and attractions for visitors of all ages. Visitors can explore the park's gardens, walkways and wildlife, enjoy educational activities at the Children's City, and witness spectacular art exhibitions and performances. We highly recommend visiting Mushrif Park and experiencing its beauty and tranquility for yourself! For any further inquiries or questions, please contact the park's customer service team.