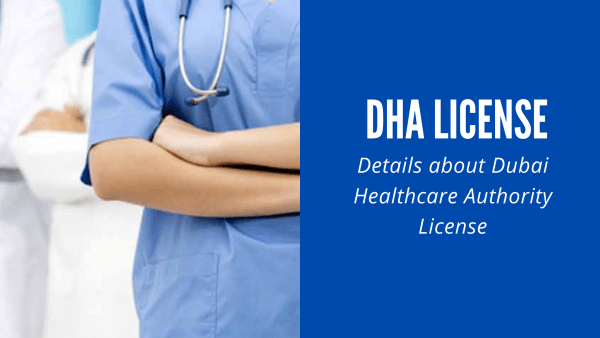 In order to work in Dubai, healthcare practitioners must first get a DHA license. The Health Regulation Department (HRD) of the Dubai Health Authority issues this healthcare practice license in Dubai (DHA). To get a DHA license, healthcare professionals must apply for one and complete the required competence tests and exams.
What is the Process to Get a Health License in Dubai?
The United Arab Emirates (UAE) healthcare license varies from many other nations in that there is no common healthcare licensing authority for physicians. The licensing system in the United States is split as follows:
Dubai Health License

Ministry of Health

Health Authority Abu Dhabi (HAAD)

Dubai Healthcare City (DHCC)
What is a DHA License?
General doctors, healthcare specialists, consultants, nurses, physiotherapists, and others will be given DHA licenses. As a result, they can continue their medical practice in the United Arab Emirates (UAE) by passing a DHA test. A healthcare practitioner can become eligible for a DHA license by completing a DHA exam.
Who Can Apply for DHA License?
The Health Regulation Department (HRD) of the Dubai Health Authority (DHA) is solely responsible for licensing healthcare professionals with the necessary skills and credentials to deliver high-quality healthcare to Dubai citizens. Traditional, complementary, and alternative medicine practitioners that require a DHA license to practice in Dubai include, but are not limited to:
Physicians

Dentists

Nurses/Midwives

Allied Healthcare
How to Get a DHA License in Dubai?
The DHA license application procedure is lengthy yet simple. Here's all you need to know about applying for a medical license in the UAE.
DHA License: Self Assessment Tool
Complete the first self-assessment as the first step in your DHA license application. That is why
Go to the

Sheryan self-evaluation website

.

Fill the form available on the website.

The site will determine if you are qualified to join the Dubai Medical Registry based on the information you give.
You can go to the next stage if you're ready. If you don't want to wait, you may have your profile reviewed manually. You must complete the following steps in order to complete the Manual Review:
Fill out an online application with all of the necessary information and documentation.

The fees must be paid (AED 200)

Wait for your DHA review, which might take up to ten days to complete.
Create a Sheryan Account on Dubai Health Authority
Create a personal ID on the DHA Sheryan portal before you formally begin the DHA license procedure.
Visit the

DHA "Single Sign On" portal

Click on "Register New Account"

Enter the required information

Now click "Register" for your Sheryan Account
You will receive account authentication details via email. 
PSV and CBT Assessment
Those who are qualified for a DHA license in Dubai should complete their Primary Source Verification (PSV) and pass the CBT (if required).
PSV Accessed through Dataflow
The Dubai Health Authority has teamed up with DataFlow Group to evaluate professional candidates for the Dubai healthcare industry. All professionals who submit a DHA license application have their educational backgrounds and qualifications thoroughly checked by the PSV. Only the most legitimate profiles are accepted into the Dubai Medical Registry as a result of these inspections.
Prometric CBT Assessment
The DHA may demand a first CBT Assessment for some healthcare professionals, notably physicians, dentists, and nurses. Prometric, an independent testing board, administers the DHA licensing exam to determine the applicants' knowledge and ability levels.
After passing the Prometric CBT exam and the PSV review, you may apply for a DHA license in Dubai.
Get Registered on DHA Sheryan in Dubai
To formally process the license application, you need to register on the DHA Sheryan. For that, simply:
Click on the "Register a Professional"

Provide the relevant information

Upload the necessary documents 

Pay the DHA registration fees (AED 200) and submit
Your application will be reviewed by the DHA in light of your CBT and PSV findings, and it will be approved, rejected, or returned for additional information.
Schedule Oral Assessment for DHA License
The DHA may ask you to undergo an oral examination depending on the professional healthcare position you apply for
Make time for the oral evaluation.

Pay the fees (ranging from AED 250 to AED 500).

Take the test and pass it.
Get Professional DHA License 
You will be a registered DHA professional as soon as you pass the oral exam. You only need to activate your DHA professional license immediately. Here's what you'll need to do with your Sheryan account to do this:
Activate your DHA license by submitting an application.

Submit an offer letter as well as a certificate of malpractice insurance.

Fees for license activation (AED 1000 – AED 3000) must be paid.
The DHA will provide an interim license after activation until the original is sent to you.
Documents Required for DHA License
For initial processing, you must provide the following papers in accordance with DHA licensing requirements:
A picture taken recently (passport size)

a photocopy of your current passport

Your educational credentials

Your certifications of experience

A license or registration to practice medicine is required.

The Certificate of Good Standing (GSC)

A two-year surgical journal (for surgeons)

If the candidate is 65 or older, he or she will be subjected to a medical fitness exam. This may be done at any of the Dubai visa medical centers.
When your DHA license application is accepted, you must also provide the following documents:
A letter from your recruitment facility stating that you have been offered a position.

A copy of your recruitment facility's malpractice insurance certificate