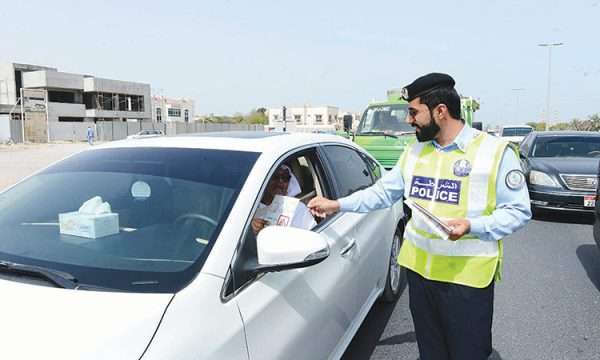 Sharjah traffic fines checking app is created to achieve the highest level of road safety. In Sharjah, traffic offenses are punishable by monetary penalties and additional punishments such as black points, resulting in the seizure of a vehicle and the suspension of a driver's license.
If you drive a car without a license in Sharjah, for example, you may be subject to an AED 500 fine as well as four black points on your license and a seven-day automobile impoundment.
Drivers will find it simpler to pay their penalties on time if they use online payment options. It will be explained in this instruction how to check and pay a traffic fine in Sharjah over the internet. Check out how to pay traffic fines in Sharjah with this mobile app.
Check Traffic Penalties in Sharjah with Mobile App
You must be informed of your traffic penalties' current status to pay them on time via the Sharjah traffic fines checking app. Checking the Sharjah traffic penalties is relatively simple because Sharjah Police effectively manages traffic fines in the emirate. To find out about the traffic penalties you owe, you may contact the authorities in the following ways:
The website of the Sharjah Police Headquarter

Vehicle Entrance to the Emirate

The Sharjah City Municipality assigned stations

RTA Centers in the Emirate of Dubai
You may check your traffic fines online in Sharjah via a variety of techniques like the Sharjah traffic fines checking app, other most prevalent of which are as follows:
Check Traffic Fines on Sharjah Police Website
To inquire about Sharjah traffic penalties on the Sharjah police website, follow the procedures outlined below:

Visit the Sharjah Police Department's official website.

To access the Sharjah Police Portal, go to the 'Traffic Service Tab' and choose 'Traffic Fines' from the drop-down menu.

Your pending penalties may be checked using one of the three techniques offered – inquiry by vehicle plate, investigation of traffic symbols, or investigation of licensing information.
Check Traffic Fines On Emirate Vehicle Gate System
Additionally, you may see your Sharjah traffic citations by logging onto the Emirates Vehicle Gate website.

On the EVG website, you may register and establish an account.

Check your vehicle's traffic penalties in Sharjah by entering the fine traffic checker's plate number, ticket code number, and license number.

The selection of erroneous selections may result in the transmission of inaccurate information.
Check Traffic Fines on RTA Website
You can look up your traffic penalties in Sharjah on the RTA's official website.

Just click on the 'Traffic Fine' page and input your traffic file number in the appropriate field to obtain the necessary information.

Alternatively, you may verify your traffic penalties in Sharjah by visiting one of RTA's service centers.
Online Payment of Traffic Fines in Sharjah
If you have already committed a traffic offense, your next main worry is likely to be how you will pay your traffic charge.
Online payment is the most time-saving and straightforward manner of doing this. It is possible to pay traffic fines online using the Sharjah Police and Emirate Vehicle Gate app/website, the Ministry of Interior website, and the Sahl gadget.
To check and pay your Sharjah traffic penalties on the Ministry of Interior UAE Website, you must first register with them. To use their e-services, you must first create an account on their official website. 
Alternatively, you may pay your traffic charge in person using one of the several options available. To pay penalties in person, go to one of the locations listed below.
Al Manakh Sharjah Municipality Headquarters.

Al Khalidiya Sharjah City Municipality center.

The building housing the Public Parking Department.

Tasjeel Village on the Sheikh Mohammed bin Zayed Road in Abu Dhabi.
FAQs About Sharjah Traffic Violations/Fines
A few questions about paying Sharjah traffic fines online.
Can I Pay Traffic Fines in Sharjah Online
Yes, traffic penalties/fines in Sharjah may be paid online using various options, including credit cards. Financing options include:
The Sharjah Police website

 Sharjah traffic fines checking app.

The Emirate Vehicle Gate website and app.

The Ministry of Interior website.

The Sahl gadget.
2. How Can I Contest a Traffic Fine in Sharjah?
A request to register a complaint at the General Directorate of Traffic headquarters in Sharjah is required if you want to appeal a traffic fine in the city. Alternatively, you may file a complaint by dialing the number +971-4-606-3555 (international). You will, however, be required to present the documentation in person or through the internet.
This page contains information on checking for and paying traffic fines in Sharjah. Taking public transportation in Sharjah is one option to avoid paying traffic penalties.
Furthermore, always double-check that any secondhand automobile you are considering purchasing has had any outstanding penalties paid. If you are searching for a used automobile that does not have any exceptional penalties, have a look at these used cars for sale in Sharjah.
Maintain a close eye on the top car blog in the UAE to learn more about Sharjah traffic laws and regulations.