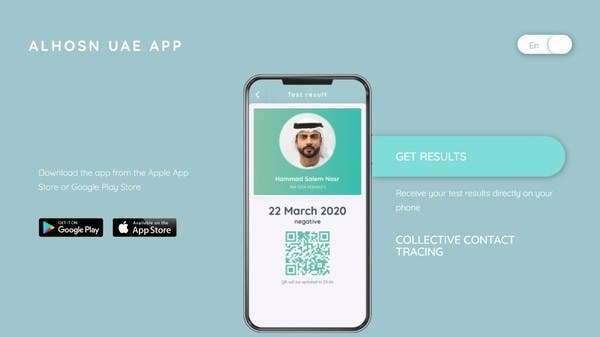 On August 20, Abu Dhabi's green pass restrictions went into effect, mandating anybody over the age of 16 to provide proof that they are completely vaccinated against Covid-19 in order to attend several public areas in the capital.
Anyone who is in Dubai, or who wishes to come to Dubai as a tourist or on business needs to register themselves on an app called the Al Hosn App. This is the only app that will verify if they are fully vaccinated and eligible to come to Dubai or not.
What is Al Hosn App Dubai?
Al Hosn is the UAE's official app for COVID-19 contact tracking and health status. You will be able to acquire COVID-19 test results as well as a record of all prior COVID-19 results with their dates via the Al Hosn app. 
Al hosn mobile app will use a health color coding system to assist identify and allow persons free of COVID-19 to enter public areas and businesses. You can help halt the spread of COVID-19 and keep your family, friends, and coworkers safe by using the mobile app.
Why is Al Hosn App Necessary for Everyone in Dubai?
The Al Hosn app is the only way for the UAE government to keep a track of the vaccination and health status of everyone that is coming to Dubai or living in the area. With the Al Hosn App, the UAE government can identify people that are not vaccinated or that have had contracted COVID in the past. The app is one way to ensure that everyone in Dubai is safe from coronavirus.
How Can You Download Al Hosn App?
The Alhosn app is available for free download from the App Store, Google Play Store, Huawei AppGallery, and Galaxy Store. Then you register and authenticate by providing your Emirates ID (Unified ID) and phone number, followed by the one-time password (OTP) that was provided to your phone.
Registering Your Vaccine on Al Hosn App Dubai
You can register yourself on the Al Hosn app in Dubai by using your Emirates ID. However, tourists or people that are not residents of the UAE can also register themselves using their passports.
Complete step by step process to Register for Al Hosn App
Visitors coming to Dubai need to register themselves on the Federal Authority for Identity and Citizenship (ICA) app in Dubai Arrivals and upload their vaccination certificates and complete all the necessary details.

They will get a UID either at the airport or through the ICA website. 

Visitors will receive an SMS on your mobile to download the Al Hosn app. 

Once the app is installed, they need to register with the UID provided to them. The Al Hosn app will have their test results displayed.
Green Pass with Al Hosn App Dubai
The COVID vaccination result shown by Al Hosn app is called the Green pass for Visitors in Dubai. Visitors who are already vaccinated don't need to get the vaccine again. They can simply upload their certificates on the ICA app and the results will automatically get reflected on the Al Hosn app. 
Who Needs a Green Pass on Al Hosn App Dubai?
All people who are above the age of 16 require a vaccine

Children under the age of 16 should have a green pass and an account on the Al Hosn app through their parent's ID

Adults over the age of 70 in Dubai also require a Green pass
Approved COVID Vaccines in Dubai
Following is a list of COVID vaccines approved for Dubai residents and visitors
Pfizer/BioNTech: Comirnaty

Oxford/AstraZeneca

Covishield by Serum Institute India

Johnson & Johnson: Ad26. COV2. S

Moderna: Spikevax

Sinopharm: BBIBP-CorV

Sinovac: CoronaVac