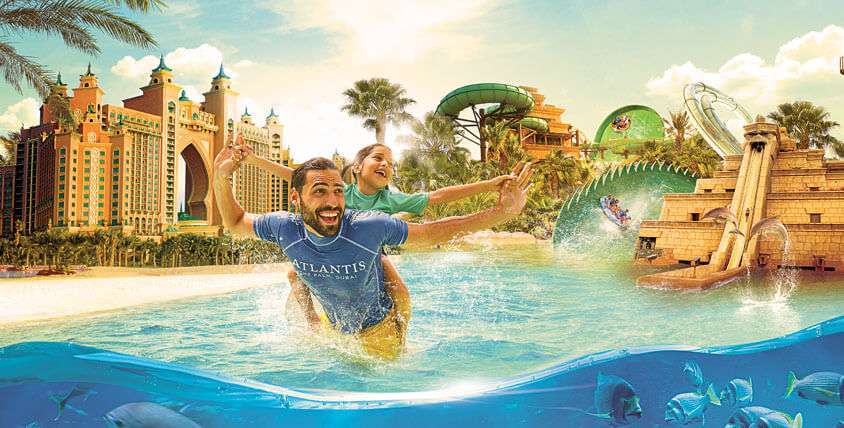 The ideal way to spend your summer, without a doubt, is just soaking up in the cool, refreshing seas while basking in the Sun and spending undisturbed, quality time with your friends and family. There is no better spot in the emirates to spend your summer days than at the Aquaventure Waterpark.
The Aquaventure Waterpark at Atlantis, The Palm, known as Dubai's largest waterpark, provides thrills and activities that will delight you and your family. Continue reading to learn more about the ticket prices, mind-blowing rides, timetables, and other data.
Ticket Prices in Atlantis Aquaventure Water Park
Days when you can visit Aquaventure waterpark
Special online rate:
Adults 1 Day Super Pass – AED 320
AED 260 for a one-day Super Pass for children.
AED 350 for a two-day Mega Pass for adults.
2 Day Mega Pass for Children – AED 290 0 – 2 Years – Free
Please keep in mind that seasonal pricing applies to online prices.
Special rate for UAE resident 
AED 220 for a one-day Super Pass for adults.
AED 170 for a 1-day Super Pass for Children
AED 250 for a two-day Mega Pass for adults.
AED 199 for a 2-day Mega Pass for Children.
Each visitor must provide proof of UAE residence, such as a driver's license, EID, or passport. Photocopies are not acceptable as proof.
Atlantis Aquaventure Waterpark Dubai Dress Code
According to Atlantis Aquaventure management, only
Boardshorts
speedos
one and two piece swimsuit or bikinis
burkinis
rashguards
are the only acceptable types of swim attire for Aquaventure rides and attractions.
Rides and Attractions in Aquaventure Waterpark
Atlantis Aquaventure has a lot to offer, from thrilling rides and slides to encounters with sea creatures. Get your heart pumping with over 30 slides and attractions, giggle your way down Dubai's longest Lazy River, and unwind on 500m of private beach. The following are some of the waterpark's highlights.
Timings of Aquaventure Water Park Dubai
Aquaventure is open from 10 a.m. to 6 p.m., Monday through Saturday, and closed on Sundays.
Lost Chambers in Aquaventure Water Park
Lost Chambers, the UAE's largest aquarium, is jam-packed with amazing experiences and world-class displays. The spectacular 11-million-litre Ambassador Lagoon aquarium is home to an astounding assortment of sharks, rays, and colorful species. As you explore the Lost Chambers, keep an eye out for the enormous grouper fish, colourful clownfish, and scary moray eels, as well as any other magnificent fascinating species.
Dolphin Bay and trek in Aquaventure Water Park
A trip to Dubai isn't complete unless you encounter the friendly bottlenose dolphins. There are aquarium packages for all ages, from children to grandparents, novices to pros. Bottleneck dolphins may be met and played with at Dolphin Bay. Dive beneath the surface while wearing a high-tech helmet, surrounded by a bunch of our local dolphins. Although no diving experience is necessary, attendees must be at least 8 years old to participate in the program.
Sea Lion Point in Aquaventure Water Park
Consider swimming with sea lions in a safe, indoor setting. That fantasy can come true at Aquaventure's Sea Lion Point. You may get up up and personal with these fascinating creatures through a variety of engaging experiences.
Aquaventure Water Park Dubai: Location Map
Location address of Aquaventure Water Park in Dubai:
Atlantis The Palm, Crescent Rd, Dubai, United Arab Emirates (UAE)