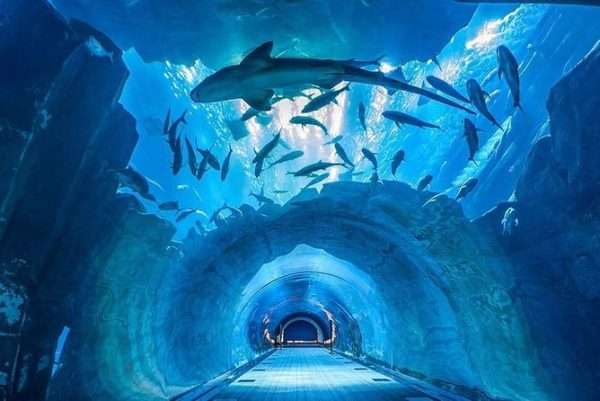 The Dubai Aquarium & Underwater Zoo is a must-see if you're visiting Dubai, especially if you're traveling with children.
The Aquarium is comprised of a huge tank measuring 51 meters (161 feet) long, 20 meters (66 feet) deep, and 11 meters (36 feet) high, with a capacity of 10 million liters of water.
The Underwater Zoo exhibits diverse aquatic creatures in their natural habitats, which is a huge hit with both youngsters and adults.
In this post, we will go over everything you need to know before purchasing Dubai Aquarium tickets.
Dubai Aquarium & Underwater Zoo Location
The Dubai Aquarium is housed within the Dubai Mall and has two levels: ground level and level 2.
The Aquarium is located on the main floor, and the Underwater Zoo is located on Level 2.
The Dubai Aquarium & Underwater Zoo is located on the Mall's ground floor.
Dubai Aquarium & Underwater Zoo, The Dubai Mall, Doha Street, Off 1st Interchange – Sheikh Zayed Road, Dubai, U.A.E
Dubai Aquarium Ticket Prices and Entry
There are many Dubai Aquarium tickets available, including:
Skip the lines and explore the whole aquarium, including all of its features!
Sun-Wed: AED 315 (US$ 86)
Thur-Sat & Holidays: AED 345 (US$ 94)
Visit the Aquarium Tunnel and Underwater Zoo, as well as witness a submersible experience.
Sun-Wed: AED 190 (US$ 52)
Thur-Sat & Holidays: AED 230 (US$ 63)
Best way to experience the aquarium with one-hour private guided tour and access to all the features of the underwater zoo.
Mon-Sun: AED 400 (US$ 109)
Visit the underwater zoo and aquarium tunnel as well as go through the experience of a shark trainer.
Sun-Wed: AED 255 (US$ 70)
Thur-Sat & Holidays: AED 295 (US$ 80)
Dubai Mall Aquarium Pricing Discounts
Most ticket packages are cheaper to visit the Dubai Aquarium on Sunday through Wednesday.
Children under the age of three are admitted free of charge to the aquarium, however they may be denied entrance to some attractions.
Tickets to the Dubai Aquarium are reduced for school trips and birthday groups.
When should you visit Dubai Mall Aquarium?
We knew when the aquarium was open to the public. The Dubai Mall aquarium hours are 10:00 a.m. to 12:00 a.m. The latest admittance hour is 11:30 p.m.
We arrived at the Dubai Mall aquarium about 2 p.m. because we were aware of its hours of operation.
As we were aware of the Dubai Mall aquarium opening hours, we reached the place at somewhere around 2pm in afternoon.
What Can You See in Dubai Mall Aquarium?
Discover more than 140 species and hundreds of aquatic animals, including the world's biggest collection of Tiger Sharks.
The aquarium is also widely renowned for its crocodile, stingray, and otter displays.
Visitors get a close-up view at well-known predators, including a caged shark feeding (with the Shark Encounter pass).
Dubai Mall Aquarium Tunnel Explorer
The Aquarium Tunnel takes around 30 minutes to explore, the Underwater Zoo takes about 90 minutes to see everything, and the Glass Boat Ride takes about 20 minutes.
Your Dubai Aquarium trip will be prolonged if you additionally see the current performances and presentations.
A Dubai Aquarium and Underwater Zoo ticket has no time limit.
You can remain as long as you wish once you're inside.
You can read various Dubai aquarium review at the online platform before planning your trip to this underwater zoo.