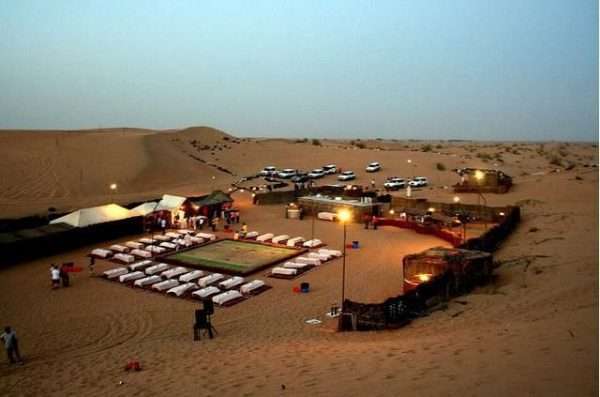 Enjoy a 7-hour cultural session as well as a beautiful historical desert safari Dubai in land rovers. Enjoy a live falcon training session, dine at a genuine Bedouin tent, and have an unforgettable experience!
Dubai Desert Safari Timing Details & Prices
Dubai Desert Safari has morning, afternoon, and even evening tours depending on your needs.
Morning safaris are designed for extreme action, with dune bashing, quad biking, and snowboarding included.
Falconry safaris are also available in the morning.
These safaris take place before the sun becomes too hot, and then everyone returns to their lodgings.
Due of the intense heat in the desert, afternoon desert safaris are not possible.
Evening desert safaris, which usually begin between 3 and 4.30 p.m., are preferred by families with elderly members or children.
Along with the many adventurous activities available during nighttime safaris, guests may also learn about local culture through entertainment events.
Following the entertainment and cultural events, there will be an open buffet meal or BBQ.
There are also overnight safaris, when you spend 18 to 20 hours in the Dubai desert and enjoy the experience away from the city.
Dubai Desert Safari Price Details
In Dubai, there are several tour companies who provide a plethora of desert safari options.
Desert safari trip prices vary depending on the season.
A quality safari trip can cost as little as AED 125 (about. 35 USD), while a private desert safari can cost as much as AED 2,000 (approx. 540 USD) per person.
Safaris, like other tourist activities, tend to be less expensive on weekdays and during slow seasons.
Dubai Desert Safari Adventure Tours
Different Dubai desert safaris provide a variety of adrenaline-pumping experiences.
You and your other tourists must pick what you wish to see and do.
For example, if you are traveling with a child or an elderly person, dune-bashing is not for you.
In this scenario, you could choose to schedule a wildlife desert safari – a leisurely drive through the Dubai Desert Conservation Reserve in search of desert animals.
Then participate in cultural displays and activities such as dressing up as Arabs, getting henna tattoos, smoking sheesha, having a BBQ meal, and so on.
Best Dubai Desert Safari Tours in Dubai
We've created a list of the top desert safari trips on the market.
These trips include hotel pickup and drop-off (or a central location in Dubai).
Morning Desert Safari Dubai Tours
These morning desert safaris are ideal for guests who want to start their day early, want to return to their hotel rooms before it gets too hot, and have something else planned for the evening.
Dubai Desert Safari Morning Tours: Sandboarding, Camels & Brunch
This 4-hour desert excursion is highly recommended.
Your trip can begin at 7 a.m. or 9 a.m., depending on your preference.
A 4×4 Land Cruiser transports you to the desert of Lahbab Red Dunes, 45 minutes outside of Dubai.
Before arriving to Al Khayma camp, you will engage in dune bashing and sandboarding.
You will be offered a small lunch at the camp before returning home.
On the ticket buying page, you may additionally upgrade and/or incorporate 'Quad bike riding' or a 'private car' for your party.
Dubai Desert Safari Morning Tour Price
Adult ticket (12+ years): 157 AED (42 USD)
Child ticket (3 to 11 years): 150 AED (40 USD)
Dubai Desert Safari: On Camel with Breakfast
If you're an early riser, this 4-hour trip is a wonderful way to start your day in Dubai.
You are picked up from your hotel about 4 a.m., and once in the desert, each couple is assigned a camel.
After 25 minutes of camel trekking, you will see the dawn. After daybreak, you will continue riding towards a Bedouin settlement for another 20-25 minutes.
After a traditional greeting of Arabic coffee (Kahwa), you will board a 4WD vehicle to travel to the Bedouin tent.
After a quick breakfast at the camp, you return to the beaches for your journey back to your hotel in Dubai.
This tour does not include any snowboarding, quad biking, or dune bashing.
You may also upgrade to a private camel trek on the ticket buying page, in which case the desert safari guide will focus solely on your party.
Dubai Desert Safari Evening Tour Price
Adult ticket (11+ years): 270 AED (72 USD)
Child ticket (5 to 10 years): 284 AED (76 USD)
Dubai Desert Safari Cost Per Person
The cost of a desert safari in Dubai starts at 30AED per person for an evening safari. It is important to remember that this is the lowest basic pricing accessible because the price changes depending on the bundle that the agency provides.
An nighttime safari tour costs around 55 AED per person on average. If, on the other hand, you choose the VIP safari, the price might rise to 150 AED.
That is all you need to know about Dubai Desert Safari tours, prices, features, costs and activities possible.