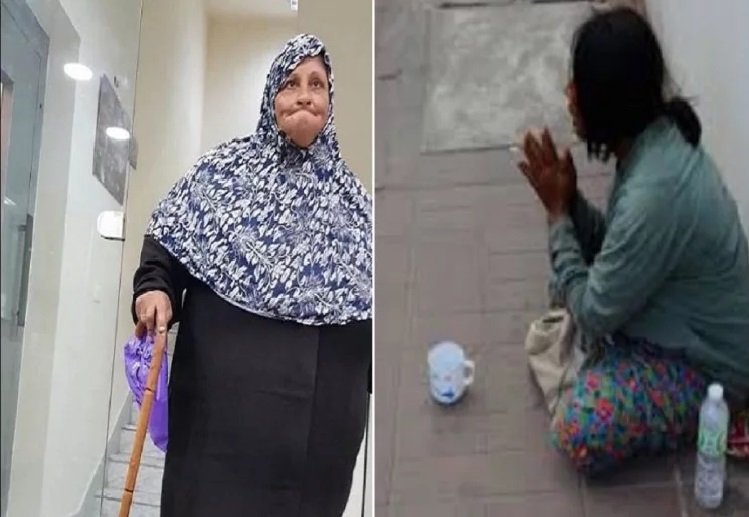 This Lebanese beggar woman Wafaa Mohammed Awad has more than 1.25 billion Lebanese pounds in her bank account. It was revealed through her bank statement that the bank account of the woman had almost a billion Lebanese rupees when she went to transfer the amount to another bank. Apparently her previous bank was not working in her best interest and she decided to change her bank for good.
But the amount she had in her bank account completely stunned the neitzens especially those living within Lebanon.
On an average, a Lebanese earns 14,500 Lebanese pounds. Therefore, her bank assets are more than enough for a lifetime. However, it would not be wrong to say that she can live like a queen in this life and even her direct generation can reap that profit.
We are surprised that the Lebanese beggar woman didn't invest the amount in any business otherwise this amount would have doubled easily within five days.
Those who say that people are not generous, this just shows how many people are actually helping beggars in Lebanon.
We would not be surprised if any other beggar millionaire emerges in Lebanon in the next few years.
إغلاق البنك الشهير في #لبنان "جمال ترست"، يفضح قصة متسولة لبنانية معروفة في #صيدا باسم الحاجة "وفاء عوض" تبين أنها "مليونيرة" وتملك برصيدها البنكي حوالي 900 ألف دولار، بعد اضطرارها لسحب أموالها ونقلها، ليُكشف أمرها وتنتشر صور شيكات باسمها على مواقع التواصل.#مصدر_للأخبار pic.twitter.com/8XrFpRfMT2

— مصدر (@MSDAR_NEWS) October 3, 2019

Though it should be noted that Lebanon is an average country and the per capita income is quite low.
Pictures of Wafaa Mohammed Awad, the Lebanese beggar woman, and her bank cheques have gone viral on social media – after it was revealed that the woman has accumulated approximately $900,000 (approx. SR 3.37 million) from begging in Lebanon's Saida city.
When converted to the Lebanese currency, the well-known beggar had more than 1.250 billion Lebanese pounds at the Jamal Trust bank
Photos of the viral cheques were dated September 30.
We can easily say that Awad is far richer than most people who gave her money in the name of charity.