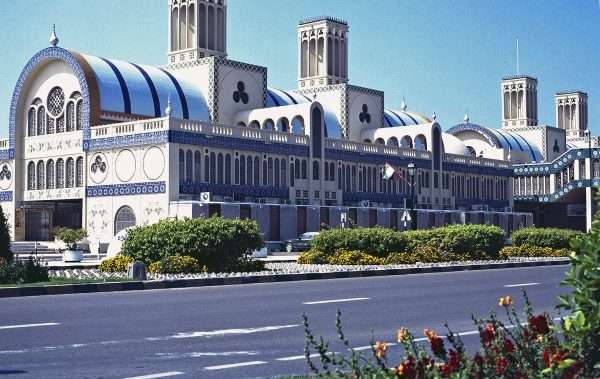 Do you enjoy going on a shopping spree? You'll be lucky in that respect in Sharjah's Central Souk! Many traditional businesses sell it from gold jeweler and antiquities to gadgets and handcrafted textiles in this Sharjah historic market center.
In Arabic, the ancient bazaar is called al Markazi, which means 'The Central Market.' This Arabian-style souk is also known as the Gold Souk or the Blue Souk by locals.
Let's take a look at everything this brilliant company has to offer.
What about Central Souk in Sharjah 
Central Souk Sharjah, which first reopened in 1978, is a well-known shopping attraction in the emirate. This lovely souk, that spans 80,000 square metres and houses over 600 establishments, offers plenty of shopping choices for shoppers. The eye-catching Arabic calligraphy enhances the market's attractiveness and attraction. 
It wasn't easy to create the market. The Central Souk Sharjah cost a whopping AED 85 million to construct. It's safe to state that the market is a seamless mix of traditional Arabic architecture and art with modern design and building techniques. One of Blue Souk's most notable characteristics is the magnificent chandeliers in the hallway.
Architectural design of Sharjah Central Souk 
H.H. the Ruler of Sharjah supervises and issues instructions. Sheikh Dr Sultan Bin Muhammad Al Qasimi, renowned British designers Michael Lyle and Partners designed the souk.
The Central Souk, which consists of two substantial market buildings linked by footbridges, is an important cultural landmark. One structure looks out upon the historic King Faisal Mosque, whereas the other looks out into the picturesque Khalid Lagoon. Quranic passages are also etched on a few blue tiles that line the market's outside walls.
Shops in Sharjah's main Souk/Blue Souk 
Central Souk Sharjah is a shopper's heaven, offering a fantastic buying experience with a combination of both local and international goods.
Blue Souk Sharjah has a number of stores selling a wide range of goods, which include:
Men's, women's, and children's clothing

Stores that specialize in antiques

Jewelry shops with a large selection of diamond-encrusted and gold jewelry.

Handicrafts

appliances for the home

Carpets

Accessory for fashion

Electronics

Textiles made by hand
Many of the items offered at Sharjah's Blue Souk are purchased from Pakistan, India, Indonesia, Morocco, Iran, Kashmir, and Syria's local marketplaces.
Because of their high quality, Kashmir carpets and Pashmina shawls are very famous amongst travellers. Rare jewelry & precious stones can be found in several antique silver and gold shops.
Blue Souk also creates personalized jeweler to fit your needs and preferences. The stores in the Blue Souk sell gold pieces, silver pots, and decorative.
Two of the best gold retailers on the market is Gold Land Jewelry. Al Arooj Jewelers, which specializes in silver, and Lata's Handicrafts, which sells distinctive classic Indian jewelry, are two more renowned stores.
What is the site of the Sharjah central souk? What is the location of Sharjah central souk? 
On King Faisal Street in Sharjah, the Sharjah Central Souk, commonly known as the Blue Souk, is situated.
What are the Sharjah central souk timings? 
Central Souk Sharjah is open from 10:00 a.m. to 10:00 p.m. on Saturdays and Thursdays and from 5:00 p.m. to 10:30 p.m. on Fridays.
What is the contact number for the Sharjah central souk? 
The Sharjah Central Souk can be reached at +971-6-556-6777.
---
This ends our tour of Sharjah's Central Souk. This one-of-a-kind souk sells gold jewelry, carpets, and various other items from both the local and international markets. Those keen on seeing Sharjah's main square will undoubtedly appreciate their visit to this good art.
Traditional souks with colorful, busy earth's atmosphere can also be found in other emirates. Earned its popularity for having the best modern shopping centers, Dubai has many historical souks. Old Souk Dubai, Souk Madinat Jumeirah, and Dubai Spice Souk are amongst the most famous souks in Dubai.
Hundreds of visitors and residents go to Abu Dhabi's souks to find a unique customer experience. The Souks of Mina Zayed and Qaryat Al Beri are two of its most renowned emirates.