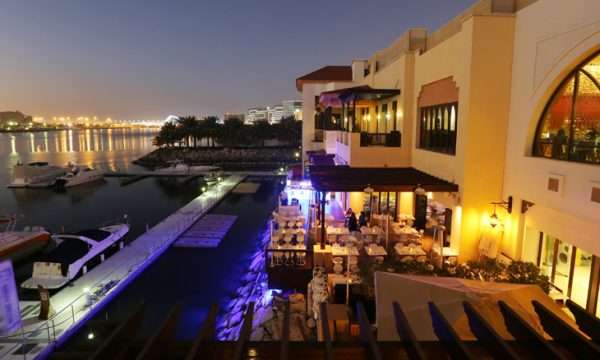 The Souk at Qaryat Al Beri, situated all along the water canal at Shangri-La Abu Dhabi, has been one of the best sites for shopping and leisure in the UAE's capital. At The Souk, Qaryat Al Beri, visitors may savor a delectable meal, shop for their favorite worldwide brands, and participate in adventurous things.
All about Qaryat Al Beri's Souk in Dubai 
The Souk of Qaryat Al Beri is noteworthy because of its Venetian-Arabic styled design. It's safe to assume that the location is one of Abu Dhabi's most fashionable souks. It's a renowned tourist and resident attraction with about 60,000 square meters.
The souk's abra boat trips are a major hit among the locals. One can have a pleasant and unusual excursion on a traditional Emirati boat before going on a shopping trip that will make you grin. Isn't that fantastic?
Shopping in Qaryat al Beri's Souk Dubai
The souk sells a wide range of international brands and draws many visitors. Beauty products, cosmetics, apparel, home décor, footwear, art, wildflowers, and other items are sold at the stores. The following brands are included in the list:
Ajmal's Eternal (accessories)

Vision Plus Mobile is an electronic company that specialises in mobile devices.

Al Saadah Art Gallery, Bateel, Exquisite Antiques, Gallery One, Godiva, Historic Touch Trading, Hind Al Oud, Khaltat Mixes of Love, Rawaaj Oud,

Nails – The Modern Manicure Studio, Amouage, Arganor Beaute, Eyelash Extension Center

Fashion: Al Makhaweer, B180 Caps, Cavallo, La Moda, Louzan, Nicoli, Yateem Optician.

Al Manara Pharmacy is a pharmacy in Al Manara.

Amwaj Jeweler, Direct Diamond, La Marquise, The Diamond Gallery, Wazni jewelry are some jewelers.

Souq Planet is a supermarket.
Eateries in Qaryat al Beri's souk Dubai
The souk has several waterfront restaurants and cafes where you may have a royal meal or just a cup of coffee while admiring the stunning canal vista. The Sheikh Zayed Grand Mosque can also be seen from the souk, a major benefit.
On your next visit, check out the following eateries and cafes:
Abd El Wahab

Baskin-Robbins

Entrecote Cafe de Paris

Azzurro

Iran

The Meat Co.

Il Caffe Di Roma

Camel Cookies

Starbucks

Finyaal Café

Milas

Ushna
What is the Qaryat Al Beri Souk Location? 
The souk is located in Abu Dhabi's Al Maqtaa neighbourhood (Bain Al Jessrain). The Shangri-La Hotel Qaryat Al Beri is one of the Shangri-La Hotel Qaryat Al Beri complexes
How do I contact the manager of Qaryat Al Beri souk?
Call +971-2-558-1670 if you have any questions or concerns regarding the Qaryat Al Beri souk in Dubai.
What is the house of the souk at Qaryat al Beri?
The following are the hours of operation for the Qaryat Al Beri Souk:
SHOPS: 10:00 a.m. to 10:00 p.m. Saturday through Thursday
Friday: 12 a.m. to 12 p.m.
RESTAURANTS: 10:00 a.m. to 10:00 p.m. weekdays
Saturdays and Sundays: 10:00 a.m. to 12:00 p.m.
What other souks can I visit in Abu Dhabi?
Apart from the Qaryat Al Beri Souk, Abu Dhabi has a plethora of other souks to visit. The ancient souks in Abu Dhabi transport you back through time and provide an excellent opportunity to learn more about the region's traditions and cultural business processes. The Gold Souk in Abu Dhabi is also a famous destination for visiting, looking for glistening souvenirs.
That concludes our look at The Souk in Qaryat Al Beri. Despite being hidden away from the central city, it is undoubtedly one of Abu Dhabi's most popular destinations. You may comfortably devote an hour day with your family at the souk and never get bored. Has something for everyone.
After you've seen the historic souks in Abu Dhabi's capital, you should go to one of the city's best malls. Consumers in the UAE's capital are spoiled with choice.