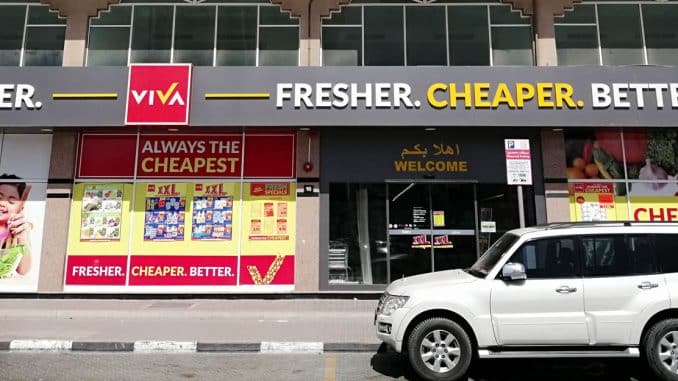 Looking for some of the cheapest options for grocery and daily-use item shopping in Dubai? Here are top super markets that you can choose from. Each super mart is listed by their pricing and prominence in Dubai. You can easily find all of these on map in Dubai, irrespective of the area where you live. Moreover, they all are pretty close to metro and bus station points.
Your Definitive Guide to Dubai's Supermarkets: Unveiling What's Best For You
Navigating Dubai's bustling supermarket scene can be a delightfully overwhelming experience, given the plethora of choices catering to every need. Let's take a closer look at the cream of the crop, highlighting what each supermarket is truly the best for.
Viva Super Market: Your Freshness Haven
Best for: Grocery, Eggs, Sugar, Bread
Viva Super Market, a haven for the freshness-conscious shopper, stands as your ultimate destination for daily essentials. From farm-fresh eggs to the finest quality sugar and a tantalizing array of bread, Viva prides itself on delivering an unmatched selection of products that embody quality and nourishment.
We Mart Super Market: Noodle Enthusiast's Paradise
Best for: Noodles, Spaghetti, Ramen
For the noodle aficionado, We Mart Super Market unfolds as a paradise of pasta delights. Whether you're in search of comforting spaghetti or crave the exotic flavors of ramen, this supermarket caters to your cravings, offering an extensive selection of noodle-based products that will make your taste buds dance.
Dragon Mart: Your Culinary Arsenal
Best for: Kitchen Utensils
Step into Dragon Mart, a treasure trove for aspiring and seasoned chefs alike. Renowned as the hub for kitchen utensils, gadgets, and gizmos, Dragon Mart equips your culinary adventures with a wide range of tools that elevate your cooking game to new heights.
Nesto Super Market: Quench Your Thirst for Quality
Best for: Drinks, Milk
Nesto Super Market emerges as the go-to destination for all things liquid refreshment. From a tantalizing variety of drinks to the purest milk selections, Nesto ensures you're always hydrated and replenished with the finest offerings.
Al Safeer Hyper Market: Bread Craftsmanship and Beyond
Best for: Bread, Branded Foods
Al Safeer Hyper Market takes pride in its exceptional bread offerings and an array of branded foods. Whether you're seeking an artisanal loaf to accompany your meals or desiring the finest brands from around the world, Al Safeer's selection is a testament to quality and taste.
Day to Day Super Market: Your Daily Essential Partner
Best for: Everyday Items
True to its name, Day to Day Super Market partners with you in fulfilling your daily requirements. From household essentials to those day-to-day necessities, this supermarket ensures you're well-prepared to tackle life's demands.
Lulu Super Market: Orchard of Freshness
Best for: Grocery, Fruits
Lulu Super Market unfolds as a vibrant orchard of freshness, catering to both grocery needs and a stunning variety of farm-fresh fruits. It's where health-conscious choices and delectable flavors harmoniously coexist.
Baqer Mohibi Super Market: Grocery and Dairy Excellence
Best for: Grocery, Dairy
Baqer Mohibi Super Market shines as an emblem of excellence in grocery and dairy offerings. With an extensive range of products spanning these categories, it ensures you have access to the best in both realms.
Carrefour Super Market: Your Tech Haven
Best for: Electronics
In the realm of electronics, Carrefour Super Market emerges as your tech haven. From gadgets that simplify your life to cutting-edge appliances, Carrefour keeps you connected and up-to-date with the latest innovations.
Union Coop Super Market: Indulgence, One Aisle at a Time
Best for: Chocolates, Grocery
Union Coop Super Market isn't just about shopping; it's an experience of indulgence. From an enticing range of chocolates to a comprehensive grocery selection, it's a destination that understands and caters to your varied desires.
Embrace the diverse tapestry of Dubai's supermarkets, each a unique gateway to fulfilling your shopping dreams. With this guide in hand, you're well-equipped to make the most of your retail journey, discovering the best for your individual needs at every turn.
Do these Super Markets Accept Credit Cards?
Yes all of thee super marts accept no-contact cards. So, you can easily pay for the grocery you take and get on with your life.
Which one is the best super market for you?
It depends on the items you want to buy. I have listed all of the super markets based on their specialties. Obviously, if you want to buy electronics then Carrefour is for you. If you want to buy towels, cutlery, then Dragon Mart or Day to Day super markets are for you. Read the details about each super market of Dubai in our list above and make a decision.
Are supermarkets expensive in Dubai?
Not really. It depends on what type of product you want to buy. There are many products that are locally branded in Dubai. These are way cheaper in all super markets than branded products that are branded from outside UAE.
Is Union Coop Cheaper than Carrefour?
Not really. There are some items like Eggs, Bread, drinks, that may have a difference of 1 dirham or so. But if we talk about the variety of products from both super markets, then the price difference is almost negligible.
How can I save on grocery in Dubai?
The best way to save more money on grocery is to buy grocery in bulk. When you buy in bulk, you automatically get some discount on most of the items. For example, 6 eggs will cost you 5 dirhams. But when you buy in bulk of 30 eggs, they will only cost you 12 dirhams.
Similarly, if you buy 1 liter milk, that will cost you 5 dirhams to 7 dirhams. But when you buy 5 liter milk, then that will cost you only 15 dirhams.
So buying in bulk will automatically have you save more money on grocery shopping in Dubai.