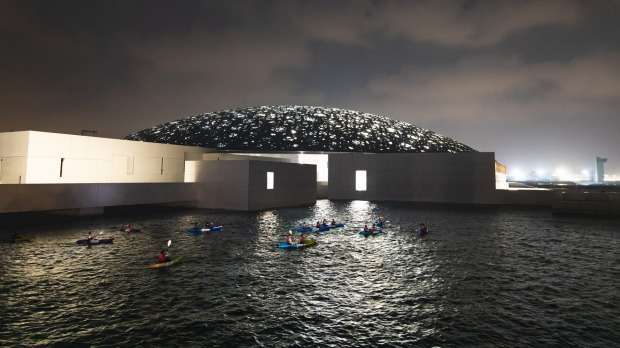 You may be surprised to learn that the Louvre is located in the United Arab Emirates (UAE). If you're searching for a change of scenery, the Louvre Museum Abu Dhabi
is a must-see, with historical and cultural perspectives, architectural styles, and entertainment for the entire family.
What is Louvre Museum, Abu Dhabi all about?
The Louvre Museum Abu Dhabi the UAE's largest museum opened in 2017. It results from a collaboration between the famous French institution and the UAE. Over 600 historical, cultural, and aesthetic works worldwide are displayed at the museum.
Louvre Abu Dhabi is regarded as the Arab world's first worldwide museum, including everything from Renaissance paintings to ancient Chinese sculptures, 15th-century globe maps, and modern art created by UAE artists. 
Where can I find the Louvre Museum, Abu Dhabi?
Louvre Museum Abu Dhabi with its colossal dome construction on Saadiyat Island, just off Abu Dhabi City's shore. It's just a 5-minute drive from downtown Abu Dhabi or an hour from Dubai. You won't have any problem getting about the museum since it's accessible by bus, taxi, and private automobile.
Take bus route 94, which stops directly outside the museum gate on Saadiyat Island.

To get to Sheikh Khalifa Highway E12, use the Saadiyat Island or Yas Island exits in your private car. Keep an eye out for traffic signs as you travel down Yas Highway. The Louvre Abu Dhabi is situated on Saadiyat Island, and this journey will take you via the Cultural District.
Spectacular Displays at Louvre Museum
In addition to its permanent collection, the Louvre Museum Abu Dhabi hosts temporary exhibitions on various subjects.
The exhibition Dragon Phoenix: Centuries of Exchange Between the Chinese and Islamic Worlds highlights the cultural ties between the two major civilizations.
You may also visit the Art Here 2021 exhibition to see award-winning pieces by next-generation Arab artists.
Architecture of Louvre Museum
If that wasn't enough, the museum is a piece of art in and of itself! Jean Nouvel, a famous French architect, built the spectacular dome structure and cubical edifice of the Louvre Abu Dhabi. Light and water interplays may be found under its colossal dome top, making it ideal for Instagram photos or a relaxing afternoon rest!
Louvre is a Museum for Children
Adults aren't the only ones who can appreciate the Louvre Abu Dhabi. Children may also have a good time! The Children Museum at the Louvre Abu Dhabi has three interactive exhibits for children to explore. Art adventures and many other things to pique your children's interest await you and them!
Children are admitted free to the Children's Museum.
Yes! No fees for Children at Louvre Museum in Abu Dhabi.
Kayaking at Louvre Museum
Plus, there's kayaking! Kayaking around the museum's waters is an excellent add-on experience to your Louvre Abu Dhabi visit. If you're feeling brave, a one-hour guided kayak trip will take you around Saadiyat Island's stunning blue seas while giving you a different viewpoint and teaching you about contemporary architecture.
How long should I spend exploring the museum?
Although the Louvre museum Abu Dhabi is a fraction of the size of the Louvre Paris, you'll need plenty of time to tour the museum's various wings. It takes around three hours to visit the significant collections. It's lovely to linger around your favorite exhibitions if you have time to spare.
Where Can You Eat at The Louvre Museum, Abu Dhabi?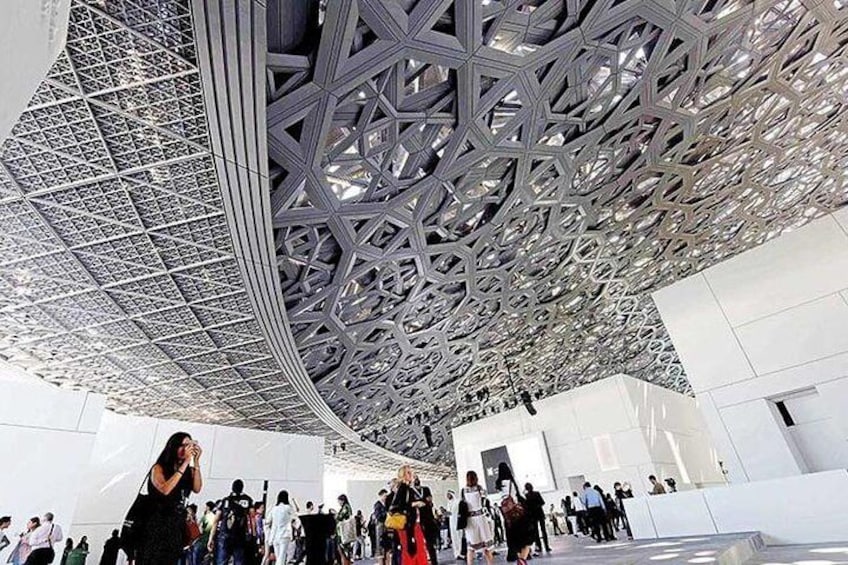 Aside from art, the museum has various food options where you may load up on delectable delights. With a picture-perfect dome view, the Aptitude Café provides specialty coffee. The Museum Café and the Art Lounge are two more eating alternatives. The most fabulous taste European and traditional Emirati meals may be found in the cafés!
If you want to relax outside the museum terrace and take in the views, the cafés'.
Admissions and Tickets at The Louvre Museum
Adults (18-60): $17

Children (18 and under) – Free

Seniors (60 and over) – Free
Keep in mind that you'll have to make an appointment via the official website.
Opening Hours of the Louvre Abu Dhabi and Health Guidelines
Timings of The Louvre Museum, Abu Dhabi.
10:00 a.m. to 6:30 p.m.

Tuesday to Sunday
Public Service Announcement: Health Recommendations
In light of the pandemic, here are specific COVID-19 regulations to be aware of before visiting!
International visitors must be fully vaccinated, have a vaccination certificate, and a registered vaccine certificate on the official ICA platform. • Local tourists merely need to have a "green" status on the Alhosn App.

Both inside and outside the Louvre Abu Dhabi, masks should be worn.

Only cashless payments will be accepted, so bring your credit card or smart wallet!