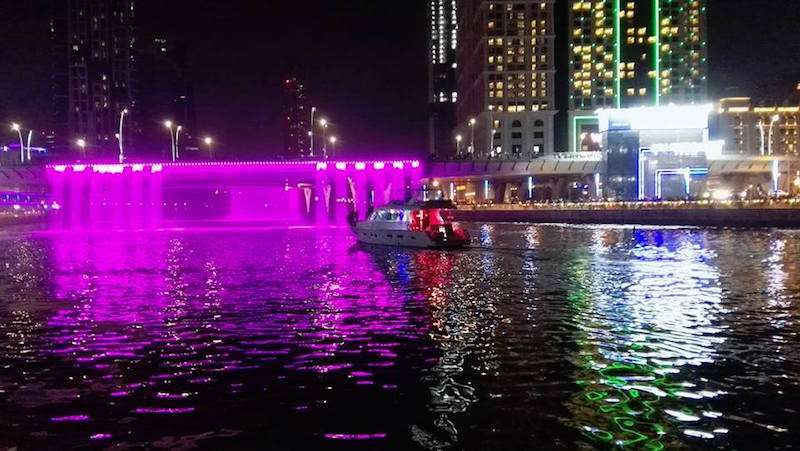 The new Dubai Water Canal is one of the most crucial pieces of evidence confirming that Dubai is a city of exceptional people who never cease to astonish the globe in terms of what is and is not feasible. This principality has repeatedly demonstrated that everything is possible, including an artificial island, a winter park in a mall, the highest structure in the world, and a 7-star hotel.
The Dubai Water Canal Project connects Business Bay to the Arabian Gulf through Safa Park and Jumeirah. This eco-friendly living development is divided into three zones: The Water Network, The Green Network, and The Public Realm are three of the most important networks.
Features of Dubai Water Canal Waterfalls
The length of the Dubai water's edge is 6.4 kilometers.
Canal width ranges from 80 to 120 meters, with a total length of 3.2 kilometers.
Paths for walking, cycling, and jogging.
>>> Read about Skydiving in Dubai – Prices, Locations, & Details
Location of Dubai Water Canal Waterfalls
Here is how you can easily get to Dubai Waterfalls Canal by following the Google map.
https://goo.gl/maps/MRdPajst5EN2
The Dubai Canal Waterfalls is located near Exit 49 of the Sheikh Zayed Road Bridge.
How to reach the Dubai Canal Waterfalls?
Take Exit 49 off Sheikh Zyed Road.
When traveling from Dubai to Abu Dhabi, take exit 49 and stay on the left side of the road.
Turn left at the roundabout.
Then you have two choices:
Straight ahead to the PAID vehicle parking lot beneath the Sheikh Zyed Road bridge ( Parking is filled during peak hours ) OR take the first right, then the first left (Behind GulfNews / Printing Press). You can stroll to the canal and get there in a few minutes.
Car parking places are usually available on minor roads here.
Ticket Price for Dubai Canal Waterfalls
There is no ticket price for watching the breathtaking splendor of the Dubai Canal Waterfalls. It is absolutely free.
Timing of Dubai Canal Waterfalls
The Dubai Canal waterfalls opens up at 8:00 p.m. and concludes around 10:00 p.m. But visitors are free to roam the canal whenever they like, apart from visiting the canal directly.
Main Attractions at Dubai Water Canal Waterfalls
Pedestrian Bridges
5 pedestrian bridges connect the canal's two sides.
Three of these bridges, each with its own aesthetic characteristics, link either side of the canal.
The bridges stand 8.5 meters above the river, providing a spectacular view of the canal.
The first and second bridges are located on Sheikh Zayed Road and Al Wasl Road, respectively.
The third bridge connects Al Wasl Road with Jumeirah Road.
On both sides of all bridges, there are electric elevators and escalators.
The second bridge, which has a lovely arch, has a concrete slope for bikes.
Charging Stations:
There are camera and phone charging facilities around the Canal.
They are distinguished by black plastic-looking protrusions on the majority of lampposts.
There is also a little bench nearby where you may set your phone down and enjoy the waterfalls on the side of Shaikh Zayed Road.
The Walk for Joggers:
The Canal will include "The Walk," a seven-kilometer promenade that will ultimately link to Jumeirah Beach's running track.
Transport Facilities at Dubai Canal Waterfalls
There are nine marine stations.
Sheikh Zayed Road, Safa Park, Al Wasl, Jumeirah, and Dubai Canal Canal
Dubai Design District, Al Wajeha, Al Maeyah, Marasi, and Business Bay are all located in Business Bay.
Jaddaf Marine Station has three daily ferry voyages at 10 a.m., 12 a.m., and 5:40 p.m.
Short 45-minute ferry rides across the canal in an open boat. Up and down costs 25 AED per person. A minimum of 8 people is necessary. The service runs every 45 minutes from 5.30 p.m. to 11 p.m. The journey begins at the Sheikh Zayed Road station.
Water taxi service is available on demand at all stations from 10 a.m. to 10 p.m. (Dhs400/hour).
>>> Read about How to Cancel Mobily SIM on My Iqama