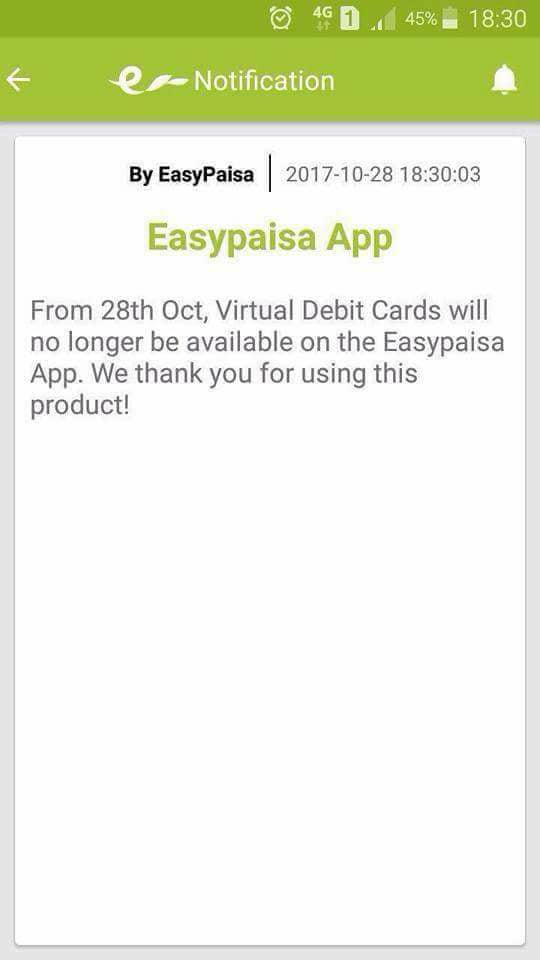 Telenor Easypaisa Virtual debit Card Temporarily Disabled
Telenor has announced that it is closing the virtual debit card service for a temporarily period, according to Easy paisa app notification.
Telenor has not announced it on their website and social media accounts until the filing of this report.
The Easy Paisa Virtual card was used for shopping online. Users were able to shop from both local and online shopping websites but some websites were not allowing virtual cards payments.
The Easy paisa app was not working on Google and Amazon as per the tests conducted by our team.
But many users on facebook groups reported that these were working on Godaddy, Daraz and other online websites.
Why Easy Paisa Virtual Debit Card was disabled?
Most users were using virtual debit cards in illicit ways. There are many websites that charge users for a trial period offer. Users of easy paisa card used to add their cards and then delete them when the trial period was over. Similarly, most of them was using it for Netflix registration. They used to make an account with Netflix, sell it, delete their card and start again.
Facebook ads were another victim of the easy paisa virtual card. Facebook advertisers added virtual cards to their accounts and then run ads. When the time of payment came, they used to delete those virtual cards.
These were some illegal activities which may have led Easy Paisa Virtual Debit Card to temporarily disable itself.
Easy Paisa Virtual Card Complaint Form Not Working
Even the Easy Paisa complaint form is no longer functional. Previously, when users were not able to use Easy paisa virtual card on some website, they were able to complain through a google form. But now it is also closed.
What Users say about Easy Paisa Virtual Debit Card Closure?
Facebook user: Ubl wiz and easypaisa virtualcard works smoothly. Try to add postal code while adding new payment method. Sometimes card doesnt work if postal code is not mentioned.
Another facebook user says, "Why don't you use your local banks debit card?"
One facebook user was dearly sad, "This is really sad and heartbreaking :/
Everyone in Pakistan wants a change and want's to finish corruption, while they themselves can't stop themselves from corruption.
Now, EasyPaisa App won't allow Virtual debit cards. EasyPaisa virtual cards had truly made online transactions easy for all Pakistani's.
To all those who misused EasyPaisa virtual debit cards, are you happy now? You just made online payments hard for all Pakistani's."
One facebook user said it was due to free facebook boosting, "Dear Customer. The Easypaisa Virtual Debit Card product will be temporarily taken down starting 28th October. We thank you for using this product and we will activate this product again soon.
We Pakistanis Abuse Every Service. Mazay Kro Pakistanio… Haraam Ki Facebook Boosting aur Illegal kamo ki wja sy EasyPaisa VCC Service temporarily turning off…"
Alternative Options for Now?
We have many alternative options provided we don't spam or misuse the cards. Some of the best alternatives to Easy Paisa Virtual Debit card are:
Credit Cards:
Alfalah credit card
Meezan credit card
Faysal bank credit card
Standard Chartered credit card
Internet Debit Cards:
UBL Wiz Card
MCB Lite Card
Internet Virtual Cards: