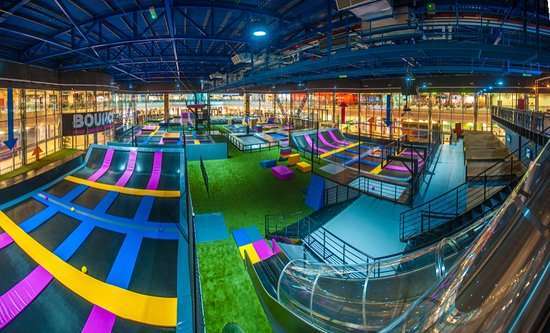 Trampoline parks are the perfect place to let out your competitive side. Whether you're looking for a good time with friends or want an activity that will release stress, trampoline parks in Dubai have these bouncing fields for your entertainment.
Best Trampoline Parks Abu Dubai: Great Way To Have Some Fun 
Not only are trampolines great for exercise, but they're also one of the best indoor activities during summer in Abu Dhabi. So don't miss out on your chance to visit these fantastic places and have fun with friends while getting some work done at the same time!
At these trampoline parks, both kids and adults may have a great time.
trampoline parks in Dubai is the perfect place to get lost in a world of adventure. The massive indoor facility features trampolines, park our components, and ninja courses all rolled into one! There's also a fantastic freestyle playground with more fun aspects like airbags that will inspire anyone who visits this activity center for children or adults alike.
Look Out; It's TRAMPO EXTREME
Location: The Dubai Mall, Near Reel Cinema, Parking Level 10 – Dubai – United Arab Emirates
Trampoline parks in Dubai is the perfect place for your whole family to enjoy an exciting day of jumping, climbing, and playing. Sixteen different activities, including a vast selection of interconnected spring variations, make this one-of-a-kind experience like no other!
At these trampoline parks, kids can have a good time while being safe.
The kids will love exploring all their options at Trampo with its many uniquely designed bounce areas, as well as having fun on what feels like unlimited levels. The colorful design ensures there's always something new happening every time you come back, whether you're looking for more daredevil jumps or want some fresh air under those knees.
The Junior Pass, which is for kids aged 3 to 5 years old, offers an hourly rental rate of 70Dhs per hour.!
AIR MANIAX
Location: 16/Street 1, Al Quoz Ind – Area 1 – Dubai – United Arab Emirates
Air Maniax may be the world's first large-scale indoor inflatable park, points-based ninja warrior course, and laser frenzy. They have also implemented groundbreaking RFID wristband technology to enhance your experience at Air maniacs with social media sharing ability allowing visitors AED 85 per hour access for general fun!
ACTION ZONE
Location: Boutik Mall, Shams, Reem Island – Abu Dhabi – United Arab Emirates
Action Zone is Abu Dhabi's newest and most colorful trampoline playground (park). The professional instructors will have you covered with their wide range of activities for kids over three can enjoy, including free-jumping slam dunk dodge ball airbag games, etc.,
These trampoline playgrounds in Abu Dhabi will put your abilities and fitness to the test!
 All supervised by competent staff members who are always available if any issues arise or questions come up! Along with their amazing parks, they have ridden arcade machines that keep your little ones occupied. So coming here would be an excellent choice no matter what age group one belongs in because there isn't anything wrong with this place.
Action Zone Reem Island.
Location: Second Floor, Boutik Mall, Abu Dhabi
Timings: 10 am – 11 pm ( Daily)

Contact Number + 971 2 663 5758.

Location:  The second floor of the Al ain mall located on Othman bin Affan Street

Timing is from Saturday to Wednesday 10 am –10 pm, Thursday & Friday it starts at 12:00pm then goes down till 09:30pm.

Weekend hours for this location are open all days but not 24/7 because they have a guard there that must be awake during these times.
Xtreme Zone
Location: Al Falah St · In The Galleria Al Maryah Island, Abu Dhabi
Xtreme Zone is an exciting place to be if you're looking for something different. From their trampoline park with 36 linked springs to the basketball arena where players can engage in acrobatic activities and even participate in flying fox courses at their own risk! The general price of admission starts as AED 40, but students get discounts on all attractions. So come on down to trampoline parks in Dubai to have the time of your lives.
Hope you enjoyed our list of Best Trampoline Parks in Abu Dhabi. If you want to know more about the trampoline and adventure parks in Dubai and Abu Dhabi, stay tuned to our Dubai tours series.