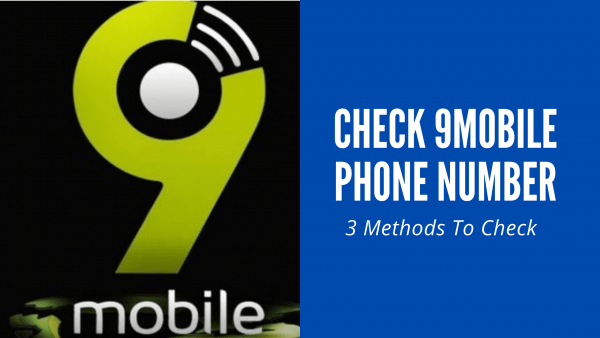 What is 9mobile (Etisalat)?
It is one of Nigeria's finest mobile network providers. You can do a lot more with 9mobile packages. It is a product of Etisalat that introduced its own network as 9Mobile. 
You should be aware that 9mobile was previously known as Etisalat Nigeria, and that all Etisalat SIM cards were instantly transferred to 9mobile. If you are unsure about your mobile number on 9Mobile, then here are some of the best ways to check that. Let's see all methods to check 9Mobile numbers in detail.
Here's how to check the code on your 9mobile/Etisalat phone.
Today, we'll show you the most effective ways to check your 9mobile number, also known as the code to check my Etisalat number. They're all the same, therefore we'll provide you with the code to check your 9mobile number, as well as a few additional options.
Methods to Check 9Mobile/Etisalat Number On Your Smartphone
Method 1: To check your phone number on 9mobile, dial this short code.
Dial *248# from your smartphone number. The mobile number will appear on your screen.
Method 2: Dial 9mobile's toll-free customer service number.
You may always call their customer service by calling 200 and requesting your phone number, or you can flash another phone line to acquire your phone number quickly. 
Call 200 helpline number from your smartphone to see your 9Mobile number.
One downside of this technique is that it takes a long time for one of their customer service representatives to respond.
Method 3: Call Another Mobile Number
Another great way to check the 9Mobile number from your smartphone is to call another mobile number. 
You will need to have balance in your smartphone number to call other mobile numbers from your 9Mobile smartphone.
USSD Code for 9mobile Etisalat Mobile Number
9mobile also accepts USSD codes. One of the greatest ways to identify your 9mobile number is to utilize the USSD code. 
You may find out your 9mobile number by dialing *248#, and your number will appear on the screen. The only way to check a 9mobile number is to use this code.
Others include phoning 9mobile customer service, which many of us dislike because it takes a long time for someone to answer the phone. If you're still not convinced, dial 200 and, when they answer, ask for your phone number, which will be given to you in a matter of seconds or two.
Dial Code *248# from your 9Mobile smartphone
How To Find 9mobile Etisalat Mobile Number
Another way to recognize your 9mobile number in Nigeria is to flash or phone someone else with it. That is, you must have N100, N50, or N10 on your 9mobile SIM card before blinking a person nearby (MTN, Airtel, Ntel, Glo,) with it.
This is the most efficient method for keeping an eye on your 9mobile number. When it comes to checking your network number, there are instances when it is quite difficult. When no one is around and the customer service number is unavailable, just save the code, *248#, as your call! 
This is how you can check the 9Mobile number from your smartphone. We hope that these methods are enough and now you can see your smartphone number flashing on your screen. 
If you have any other method that we have not added to our 'Check 9Mobie Etisalat mobile number' tutorial, please contact us.