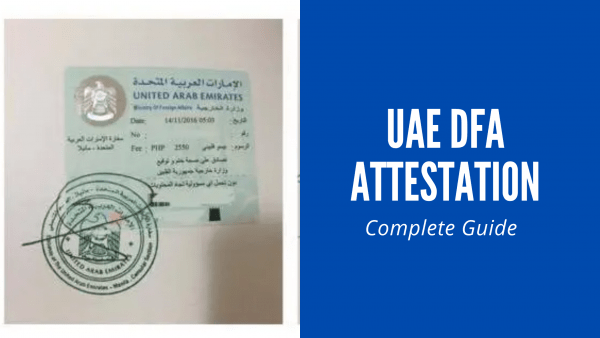 If you are from the Philippines and would like to know about the overall requirements for UAE attestation certificates then this blog is for you.
We will learn about authentication of certificates in the Philippines. 
These documents are often required by OFWs (Overseas Filipino Workers) regulations in Dubai, UAE. 
Find out what is the purpose behind attestation of documents, why are they required, what are the standards used for authentication, and how can you easily fulfill those standards.
What is the UAE Certificate of Attestation for Overseas Filipino Workers?
This certificate verifies the validity of a person's document, such as a diploma, TOR (Transcript or Records), birth certificate, certificate of nationality, marriage certificate, professional licenses, technical training diploma, and other similar documents. Foreign nations such as the United Arab Emirates, Saudi Arabia, the United States, Canada, and others frequently demand such proof. These documents are associated with DFA Red Ribbon certifications since they are identical to UAE attestations and stamps. People just go by other names.
Attestation of DFA's Authentication Certificate
The Philippine Department of Foreign Affairs or authenticated the original and duplicate of the document (e.g., PSA-issued birth certificate, marriage contract, school records, NBI, etc)

A copy of the applicant's passport is required.

Any additional document(s) that the processor may seek.
Steps in Processing Overseas Filipino Workers from DFA
Verification by Philippine government officials is followed by document authentication at the Department of Foreign Affairs (DFA), and finally submission to the UAE Embassy or Consulate for attestation and stamping.
These documents are required to be verified by the authorizing parties issuing them:
DepEd – for elementary and primary school certificates
CHED – for secondary and college certificates like diploma and TOR
TESDA – for technical training certificates
PRC – for professional licenses
NSO – for authenticated documents like birth certificate, marriage certificate, CENOMAR and the like
Steps for Requirements of UAE DHL Attestation Certificates
Original and certified true copies of the documents are required. 
You'll also have to pay some costs for each document's copying (ie: P125 for NSO BC, P150 for NBI clearance, etc.)
Following that, these documents are sent to the DFA for authentication. The papers from Step 1 will be returned to you with certificates showing their validity and attesting to their veracity from the DFA.
Original and certified true copies of the documentation you submitted for Step 1 as well as any verification papers provided by those authorities. You'll have to pay for each document's copy (P100 per authentication in the DFA).

Attestation from the UAE Embassy. At the UAE Embassy, all documents are stamped.
All of your previously acquired paperwork and certificates are required. You may be required to pay fees of up to P1700.
DHL UAE Attestation Process 
You can get both the steps done using DHL branches available across the country, this process is also called DHL process UAE attestation. You will be charged extra freight and delivery fees. You'll also need to prepare a Manager's Check for the UAE attestation payment (P1700) and additional DFA Red Ribbon fees (a few hundred pesos per document). Please keep in mind that these rates are subject to change.
DFA authentication takes two weeks or less to process. It all depends on whether or not there are any holidays in the Philippines or whether there is a backlog of applications. You're familiar with the situation here.
Local agencies in the nation provide attestation services in the UAE and Dubai. They do, however, demand a greater fee for processing your paperwork. We can do it ourselves and save money in the process.