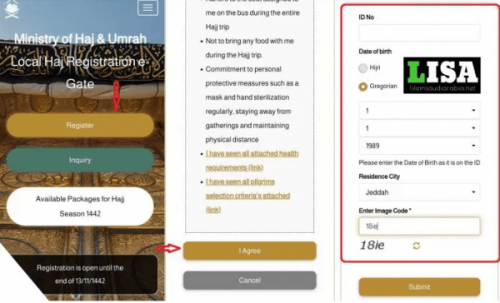 Here is the complete process to register for Hajj 2021.
The Ministry of Hajj and Umrah in Saudi Arabia has established an online tool enabling the registration of Hajj's pilgrimage by nationals and residents in the country in 2021. According to the government, this year the Hajj would only be allowed to take place for 60,000 nationals and residents dwelling in the country.
PS: Only 60,000 people can do Hajj in Saudi Arabia this year.
Pilgrims who have a valid ID or Iqama, the age of 18 to 65 years, and free from chronic illnesses have a primary qualification for Hajj 2021. Pilgrims also must not have had a Hajj trip in 5 years and must have immune status on the Tawakkalna app. By accessing the Absher site, inquiries and civil affairs / Query Hajj Eligibility, you may verify your Hajj 2021 eligibility. If the pilgrims registering for Hajj are not vaccinated for Corona, they will not be allowed to perform Hajj.
Hajj registration will be finished in two stages this year. Today, Sunday 13 June 2021 at 1.00 p.m., the first stage started and will run until 10:00 p.m. on 23 June 2021. The second phase will commence on 25 June 2021, at 1 p.m., with reservation and purchase of packages.
Hajj Package Pricing 2021:
For local Hajj 2021 the three packages are available, starting from SR 12,113 with the exclusion of VAT and the Camps (Camps) with the start of SR 14,381 and Distinguished Hospitality package (Abraj) with the start of SR 16,560. They are available from SR 12,113 with the exception of VAT.
Procedure to Register for Hajj 2021
Visit the Hajj Registration Page: https://localhaj.haj.gov.sa/ for registering yourself as a pilgrim.
Click on "Register"
Then click on the "I Agree" button.
Enter your "ID Number".
Select "Date of Birth" (Either Hijri or Gregorian Calendar)
Select "Residence City"
Click on "Submit".
Enter your "Mobile Number" on the next page.
Enter the "OTP" that was sent to your registered mobile number.
Click on "Confirm" to complete the registration.
Once your application is approved, you will be notified via SMS.
Important Note About Hajj Registration 2021:
This submission is tentative and not final. Registration shall not be accepted until final permission has been given and the outcome is communicated via the text messages on my mobile phone after confirming that health and regulation criteria have been satisfied.