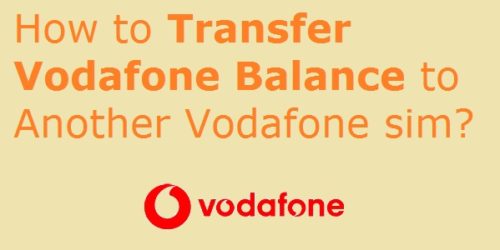 Vodafone is one of the largest mobile telecom network in India just like Airtel, Bsnl, Idea, Jio and various others. It has a large customer base and offers quality service to its users. Most of the time, the Vodafone users want to transfer balance from their mobile to another number. This is because they are either short on balance, or the other person doesn't have access to a mobile card provider in the area.
The balance transfer service is for anyone who is low on balance and would like to get balance in an emergency.
So, let's find out what Vodafone Balance Transfer service is and how you can transfer balance to another mobile by using the USSD codes available.
What is Vodafone Balance Transfer Service? Why is it used?
Anyone who is using a mobile needs balance. Sometimes, the balance can be bought by getting a mobile card. However, this service is not always available and that's why the Vodafone balance transfer service comes in handy.
Users can use it in case of an emergency
When they don't have sufficient balance but want to talk to someone
When they have already request loan or the loan credit facility is not available
Credit loan facility is available but the user needs more money
Vodafone to Vodafone Balance Transfer
With Vodafone you get the following facilities:
1. Balance transfer Vodafone service.
2. Vodafone Credit Loan. 
3. Vodafone Call me Back Request.
Vodafone Balance transfer service offers transfer of mobile credit from one Vodafone number to another Vodafone number. The following code needs to be used to activate the request.
Dial *131*<Amount>*<Nubmer>#
Make sure that you follow this method effectively otherwise the callback offer won't work.
Follow the method *131*<amount>*<Number># or the code won't work.
Or, you can use the following method to get balance transfer facility. Simply dial:
*111*3#now…
Proceed to 5th option 'Bill pay recharge & Balance Transfer.'
Now select Balance Transfer option and follow the steps.
From the menu you can select the following options:
Balance transfer
Balance request
Bill pay/recharge via Mpesa account
Terms and Conditions to Transfer Balance in Vodafone
You can only transfer Rs 5 to Rs 30
Vodafone charges Rs 1, 2 or 3 as tax while transferring balance
Vodafone only allows this facility to the users who have at least spent 5 months on the network
You can only make one transfer request per day
Service charges Rs1 for Rs5 to Rs9, Rs2 for Rs10 to Rs24 and Rs3 for Rs25 to Rs30 for transferring balance
How to Transfer Balance from Vodafone with App
Login to My Vodafone App
Select Balance transfer setting in the App.
Select Balance Transfer option
Enter Vodafone mobile number and transfer talktime balance and selected amount
Use Vodafone Credit Loan
You can also use Vodafone credit loan service provides the facility to take talktime loan in case of an emergency, especially when you don't have enough mobile balance to.
Using Vodafone Credit loan service you can only avail Rs.5 as credit at one time. If you want to avail more credit you will first have to return this one. The network also charges some amount as tax on the return amount.
Use Vodafone Call Me Back Request
Vodafone also offers a call me back request that you can use in case of an emergency. When you don't have mobile balance or money to get a new card and load credit in your SIM, you can easily ask the other person to call you.
Dial Vodafone the call me back ussd code from your mobile and ask friend family to call you back. You will have to use the USSD code with the mobile number of your family member to avail the offer.
Here is the call me back mobile number for Vodafone customers:
Send the whole number of your friend's of family member's mobile number 50234.
For example: Send 08xxxxxxxx to 50234.
That's it. We hope this post to transfer balance between Vodafone mobile numbers will be helpful to you.