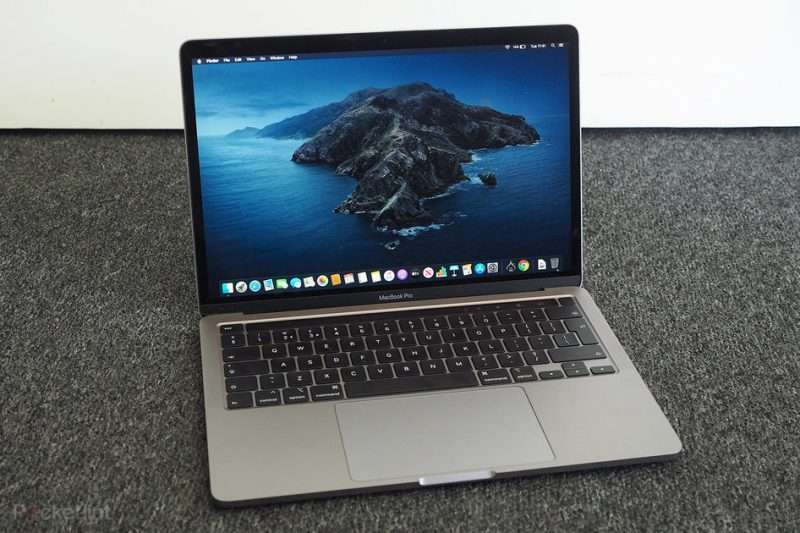 Let's learn how to uninstall Kodi on a MacBook device in detail.
What is Kodi?
Kodi (formerly XBMC) is a well-known free media player for Mac and Apple TV. It enables users to stream films, music, podcasts, and other media items over the internet. This method can assist you if you need to remove Kodi from your Mac. We will show you how to properly and completely uninstall Kodi. If you still have an older version of Kodi, which was known as XBMC before the rename, you may remove it here.
How to Open a PLT File on MacBook?
Why Uninstall Kodi on MacBook?
If you are giving your MacBook to someone else or you are selling it, it makes sense to remove all the applications including Kodi. This is why you will uninstall Kodi from the MacBook. You can also remove it if you want a clean install of Kodi or all apps.
How to Remove Kodi Add-ons?
Add-ons are additions that may be applied to a program to enhance its functionality. Kodi has a plethora of different add-ons that bring even more advantages to users. Some of the add-ons, however, may not be useful to you.
Launch Kodi.

Click Add-ons My Add-ons on the left side.

Open any add-on category.

In the bottom right corner, click the Uninstall button.
Why Is My Escape Key Not Working Mac?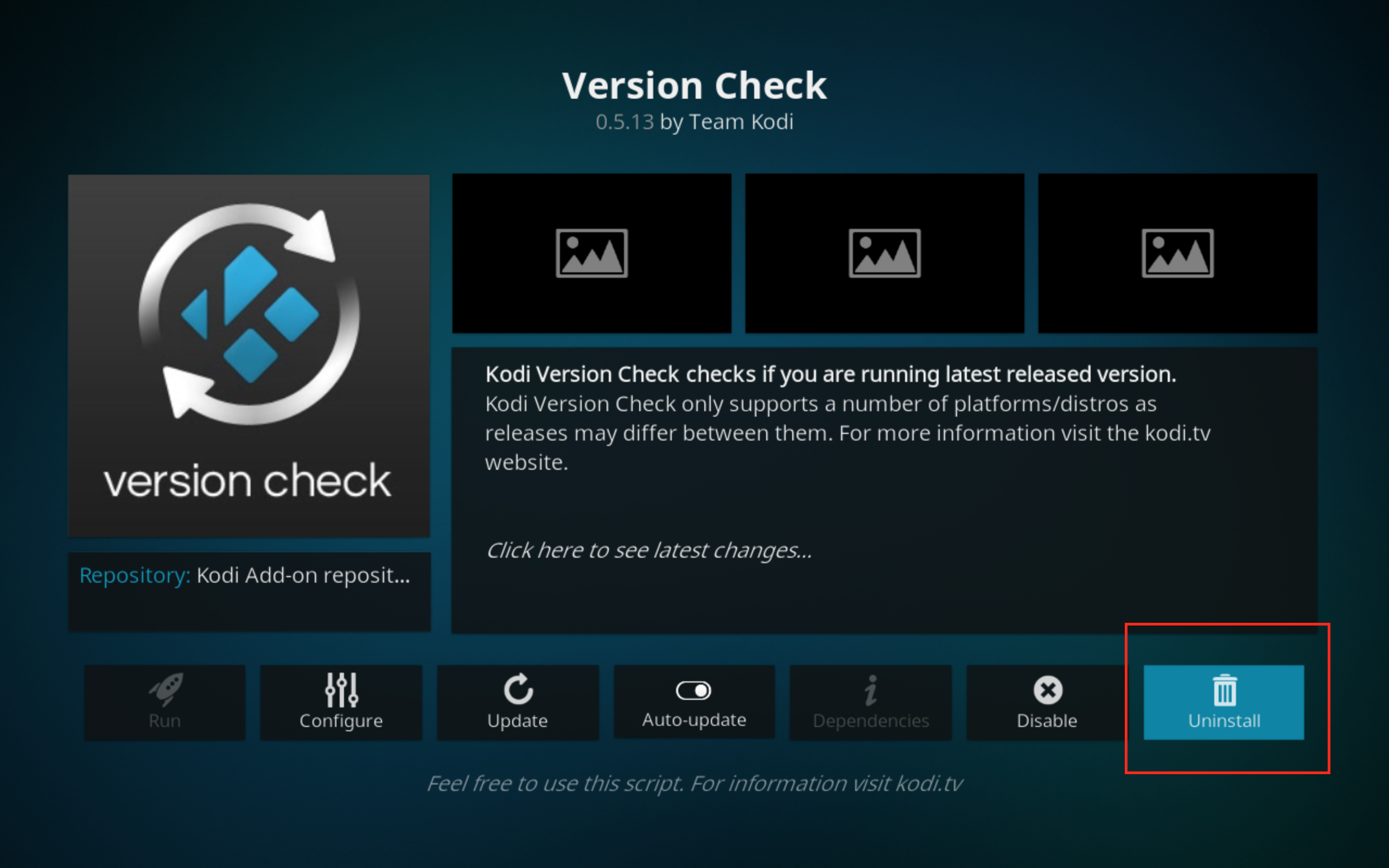 How to Remove Kodi from a Mac Manually
As previously said, in order to completely remove any program from your Mac, you must also wipe away your Mac's service files. This is particularly crucial if you don't have enough free RAM space on your Mac's hard disk. Uninstalling various software, including Kodi, is one method for clearing up disk memory and thereby freeing up space on your hard drive.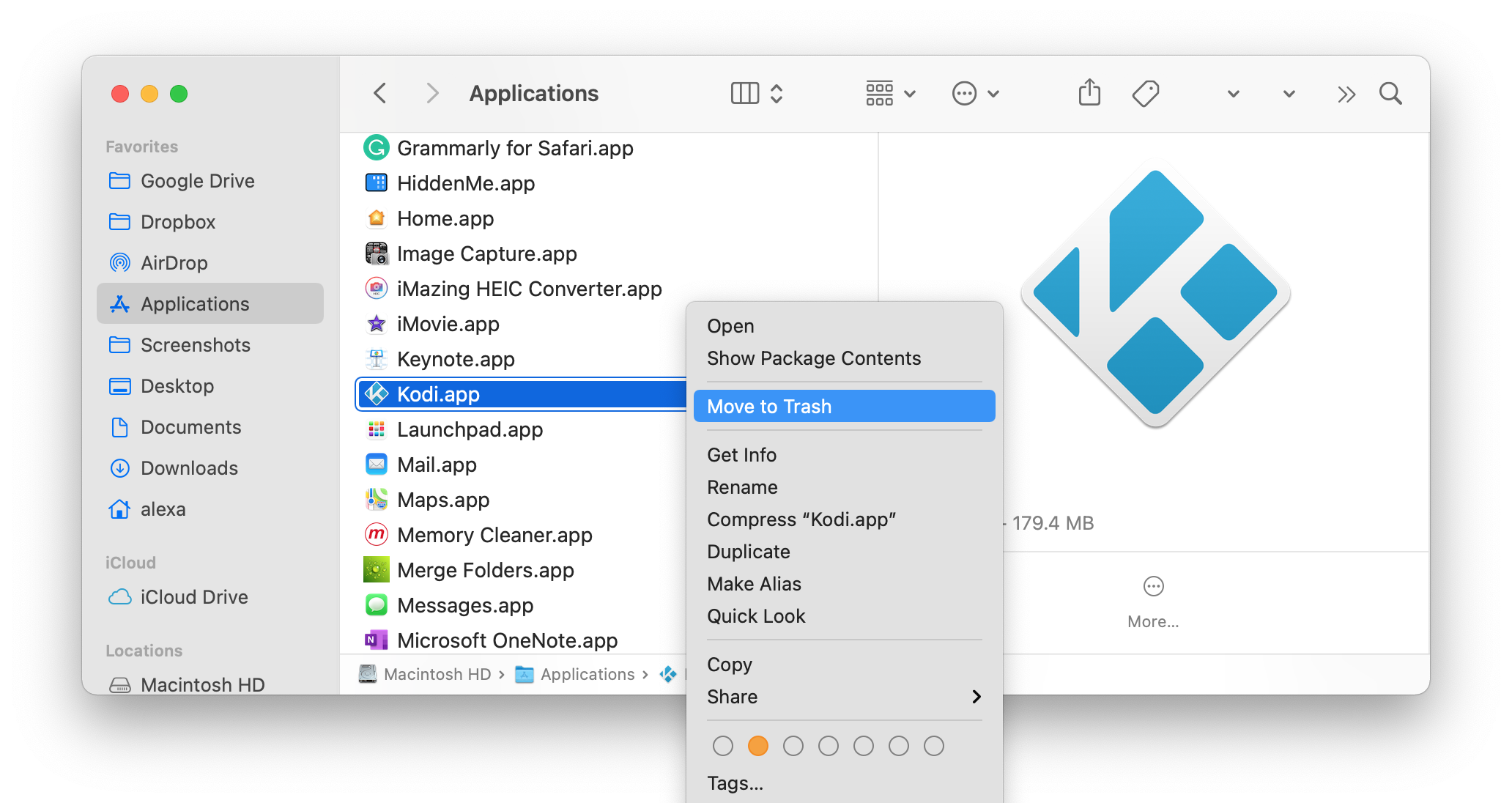 Kodi should be closed. To do so, click the OFF button in the application's window's left-bottom corner.

Open Finder, go to the Applications folder and delete the Kodi program.

Navigate to the Library folder, which is hidden. Go to the Finder's menu, click Go, and then pick Go to Folder… In the search window that appears, enter /Library and press Go.

The folder Library will be opened. Check and delete any remaining Kodi files from the following subfolders. They might be folders or individual files containing the words Kodi or XBMC in their names.

Because each user's support files may vary, we suggest that you additionally check these directories for Kodi's leftovers.

After deleting all of Kodi's files, be sure to clear your Trash to remove Kodi from your Mac completely.
Why Can't I Watch Hulu On My Mac? (Solutions)
How to Uninstall Kodi Using App Cleaner & Uninstaller
App Cleaner & Uninstaller is a tool that enables you to completely and accurately uninstall programs from your Mac in only a few clicks. It automatically locates app service files as well as the residual files of previously deleted applications.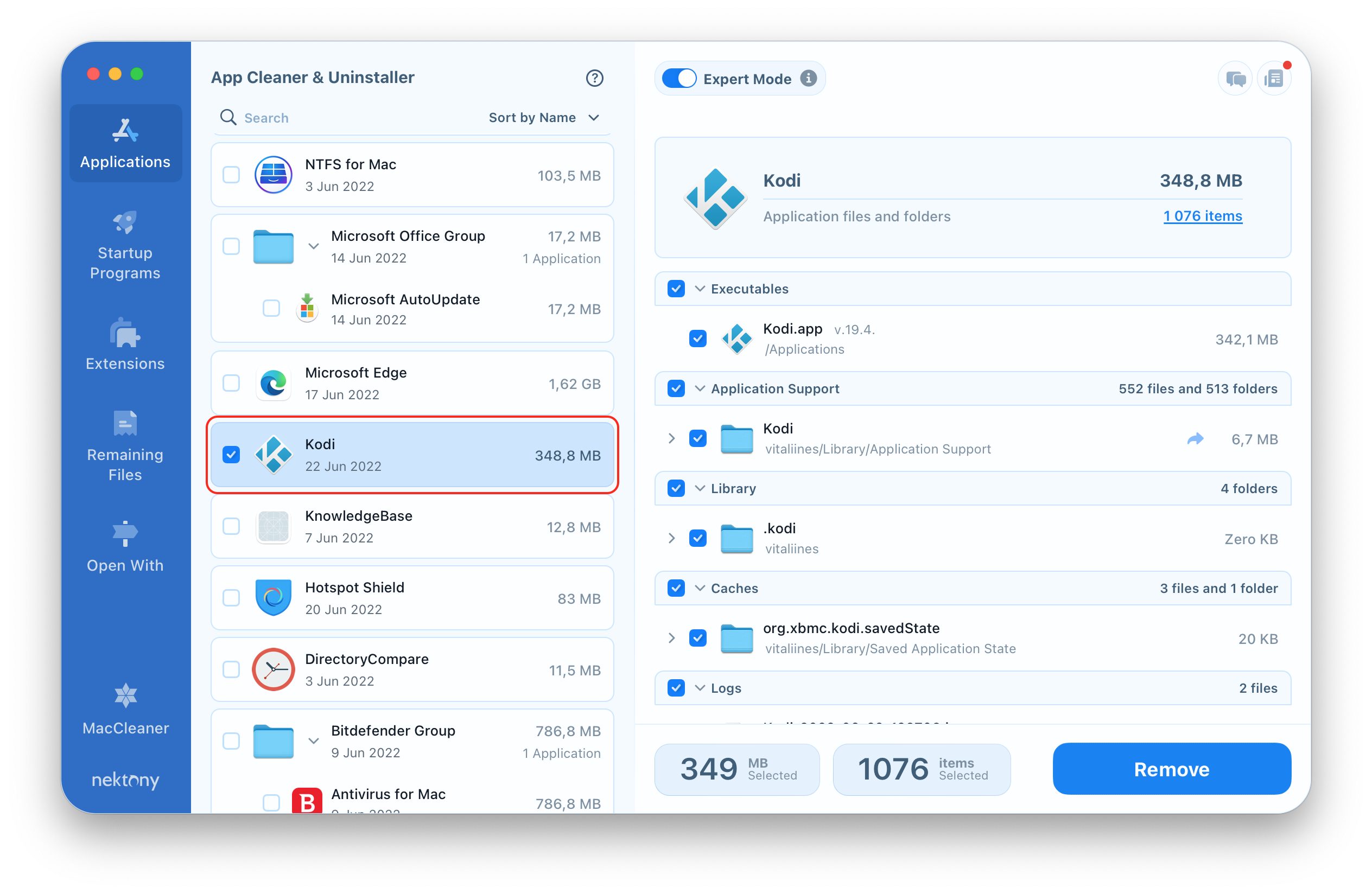 Start the application to begin scanning the Application folder.

Locate and pick Kodi from the list of applications.

Confirm the action by clicking the Remove button.
If you have already deleted Kodi, App Cleaner & Uninstaller will display the leftover files in the proper area. Simply go to the Remaining Files tab and choose and delete any unnecessary leftovers.
If you have an older version of Kodi, you will need to follow the same instructions to remove it.
How To Convert M4V To JPG On MacBook?
Is it Legal to Download Kodi on MacBook?
It is entirely legal to download and use Kodi as a media player on any device. However, it is unlawful to broadcast protected content. Therefore, you must be careful about the kind of stuff you watch, listen to, or share.
Can You Clear Kodi Cache on MacBook?
You may reset Kodi by deleting all of its caches, preferences, and other support files with App Cleaner & Uninstaller. To do this task, open the uninstaller, locate and pick the Kodi support files (being careful not to choose the Kodi executable file), and then click the Remove button.
Can't Uninstall or Delete Kodi on MacBook? What to Do?
What if you can't uninstall or delete Kodi from MacBook? What then? Here are a few options to delete Kodi from Mac if you don't see the option to uninstall it are:
First download APPCLEANER app. Drag KODI app onto the icon of APPCLEANER after downloading it. A list of every KODI file available for deletion will be displayed to you.
Drag Kodi to the TRASH icon and choose to empty it from the MacBook > Applications menu. You will delete Kodi this way but not the addons. To delete the Addons of Kodi,
Go to Kodi Folder > Userdata folder, which is located one level underneath the Kodi folder that has to be deleted. Delete this folder to clear all the Kodi addons from the MacBook.
We hope that these tips have helped you easily remove Kodi from MacBook without any issues.
If you tried another way to delete or uninstall Kodi from MacBook and that worked, tell us about it in the comments below or by emailing us!