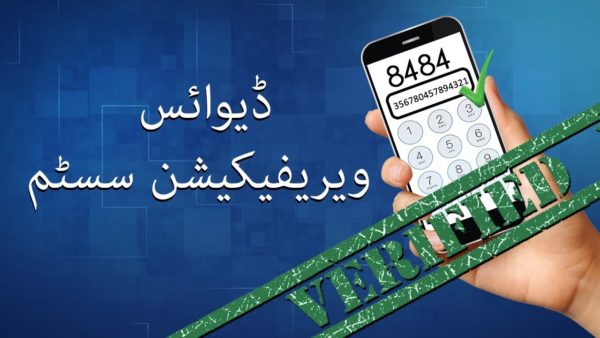 You all must have known by now about the message that is circulating around Pakistan. The message says that Pakistan Telecommunication Authority (PTA) is going to disable devices that don't have a verified IMEI number.
PTA Device Verification System – How to Check IMEI?
PTA have designed a device verification system that checks the IMEI and register or block it. How to use this DIRMS (Device Identification, Registration, and Blocking System)? We have made a list.
PTA IMEI Blocking Number SMS
You must have received a message from PTA to verify your mobile phone's IMEI number.
The message is from 8484 PTA Number.
It says: Buy only PTA compliant mobile SIM based devices. Please check the status of the IMEI by sending an SMS to 8484.
Non-compliant devices will not work after Oct 30, 2018.
What is IMEI and How to Check it In Pakistan?
IMEI is a specific identity number provided to each mobile phone. It is similar to a model number but the only difference is that IMEI is different for each mobile in this world.
Check IMEI in Pakistan for PTA Device Verification
Here is how you can check the IMEI number of your device in Pakistan before Oct 20th.
The USSD code *#06# provides users a simple way to check the IMEI number. Once the number appears on the screen, note it down somewhere safe.
Check PTA Compliant IMEI Mobile Phone Online – Step by Step Process
First of all visit the website: https://dirbs.pta.gov.pk/
Now you will have the option to enter your IMEI number.
Dial *#06# from your smartphone and check your IMEI number
Now enter the IMEI number on the website to check if it is PTA compliant.
If the device is compliant, PTA will give a green check mark
If the device is valid but not compliant, you simply have to send an SMS to one of your friends (make a money generating activity) and your phone will be automatically registered. Don't worry about it.
If you device is blocked or stolen, contact PTA because your device can only be unblocked by the PTA. This may be a stolen device.
If your device is non-compliant, enter your SIM card in the device and use it. The device was not registered with PTA or may be the GSMA has issued a duplicated IMEI. In any case, you simply have to use the mobile device to make it enabled.
SMS Number for PTA Device Verification
You can also send a SMS to 8484. The message will be charged.
To check through SMS method, all you need to do is simply Go to > Write Message Option > Type 15 digits IMEI number > Send it to 8484
Mobile App to Check PTA Device Verification
PTA has also launched a mobile app so Pakistani mobile users can easily check the status off their mobile IMEI numbers. Here is how they can do it.
Download this mobile app by PTA and install it on your computer.
Once you have the mobile app installed, launch it and enter your IMEI number.
It will show you the current status.
Here is a table from PTA Device Verification System
You can easily find out what is the status of your mobile device by checking the IMEI on DIRBS Pakistan.
| | | |
| --- | --- | --- |
| Text Message | Explanation | Action Required |
| Device IMEI is Valid. Insert SIM and make a call/SMS to anyone on or before 20/10/18 date for auto registration | This indicated that the IMEI of your device is valid as it is GSMA approved but it's not PTA compliant. PTA will auto-register all such IMEI numbers that are observed on network latest by 20th October 2018. Their status will be compliant after 20th October | To auto-register all the IMEIs related to this mobile device, it is requested to do any revenue generating activity. For example, make a call, send a SMS or use mobile internet before 20th October, 2018 in order to continue receiving network services. In dual (or more) SIM mobile device(s), revenue generating activity must be made via each SIM slot in order to be auto registered |
| IMEI is compliant | This indicates that the mobile phone is PTA compliant. You can use this mobile device and continue receiving network services without any problems | Mobile phone is genuine and requires no action |
| Device IMEI is blocked and reported stolen | This indicates that IMEI is blocked as this IMEI was reported as stolen earlier | If you are the one who has reported this mobile device as stolen/lost earlier and now you have got it recovered, then contact PTA/CPLC to unblock |
| Device IMEI is non-compliant. Please insert all SIMs in this device and use them before 20/10/18 to continue using this device | This indicates that the mobile device IMEI is either not allocated by GSMA or maybe it is duplicated. To facilitate such customers, PTA will auto pair all such IMEIs which are observed on Network with specific SIMs latest by 20th October 2018. After given date, customers will be able to use these IMEIs with paired SIMs only | To auto pair all IMEIs related to this mobile phone, it is requested to do at-least one revenue generating activity from all SIMs on your name that you want to use i.e. make a call, send a SMS or use mobile internet from your SIM(s) latest by 20th October 2018. In dual (or more) SIM mobile device(s), revenue generating activity must be made using all the SIM slots for the mobile device(s) to be auto-paired |
How to unblock smartphones after PTA block?
There is no way to unblock PTA blocked smartphones. However, some users have reported that they were able to unblock the phones. We asked them about how they did it. Here are the solutions. You can try them and see if you are in luck.
Unblock your PTA smartphone by inserting another SIM card. If it starts working, insert the old SIM card back in it.
Go to the local market. For instance, it is the mobile market in saddar for Karachi smartphone users. They will charge you Rs 2000 or Rs 3000 depending on the cost of smartphone to unblock it.
Pay the taxes on the smartphone and get it unblocked legally. You will have to visit a Customs office to get more information about how to get it unblocked by paying taxes.
Here are the details:
Documentary and other requirements specified at the Karachi Customs House.
Custom House Karachi is located near the KPT Head Office in Kharadar.
Custom House Lahore is located near the AG Office in Anarkali;
Custom House Islamabad is located near the KRL Hospital in G-9/1; and
Custom House Peshawar is located in University Town off GT Road.
The documents required for DIRBS Registration are:
Passport – first page + arrival stamp
Eticket with boarding pass copy
CNIC copy
The person needs to come in person
The Duty & Taxes for Imported Smartphones are as follow:
Customs/ Regulatory Duty
(i) Rs.250/set uptoC&F Value ofUS S 60;
(ii) 10% Adval of C&F value above US$60 to US$130;
(iii) 20% Adval of C&F value above US $ 130.
Sales Tax
(S.N0.20f the Ninth Schedule to the Sales Tax Act, 1990)
(i) Low priced – Rs 650/set
(ii) Medium priced – Rs 650/set
(iii)Smart or Satellite – Rs 1500/set
Advance Sales Tax
3% on all devices imported
Advance Income Tax
6% for filer
9% for non-filer
Mobile Handset Levy
(Finance Act 2018)
(i) Where value including duty/taxes is to 40,000 – : Rs.1,000/set.
(ii) Where value including duty/taxes is Rs.40,000 to Rs.80,000 – : Rs.3,000/set
(iii)Where value including duty/taxes is exceeds Rs.80,000 – : Rs.5,000/set