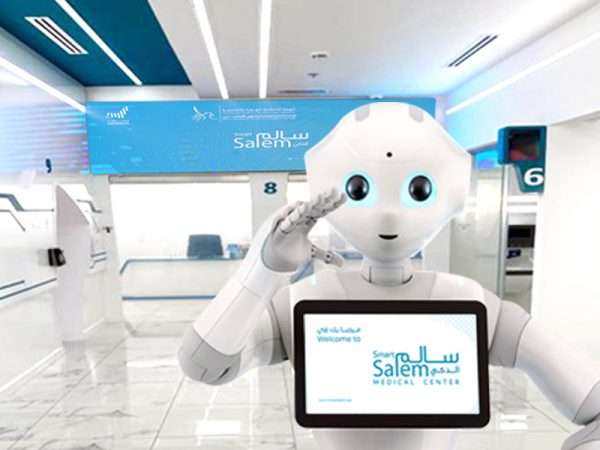 Sheikh Hamdan bin Mohammed bin Rashid Al Maktoum, Crown Prince of Dubai and Chairman of the Dubai Executive Council, opened the Dubai Health Authority's (DHA) first totally autonomous medical fitness center, dubbed "Smart Salem."
'Smart Salem' uses AI and the Internet of Things (IoT) to deliver medical fitness and occupational screening services, allowing the center to perform medical fitness operations with minimal human intervention, cutting the time to 30 minutes and eliminating any errors.
In its first phase, the 'Smart Salem' would target VIPs, investors, and holders of the golden resident visa. The new location will be able to serve 150 consumers every day.
In collaboration with the General Directorate of Residency and Foreign Affairs-Dubai, the new center will reduce the time it takes residents to register, undergo medical exams, and receive residency from 28 hours to only 30 minutes.
UAE Medical Instant Visa Issuance Details
Here is how the instant visa issuance from a UAE Medical Centre works out:
Customers can hand over their car to the smart VIP valet service at the 'Smart Salem,' which uses facial and plate recognition to identify them so that the car can be recalled after their travel is done autonomously. When they enter, a robot will greet them and guide them to a screen where they may self-register using their face and iris prints.
Customers will be directed to the blood withdrawal booths by a first-of-its-kind personalized Smart Q-system, which will call them by their name and photo and then direct them to transparent Smart Glass doors, which will electronically tint once the customer walks in to ensure their privacy, using voice control. Customers can also choose from a variety of scenery alternatives on the screens in the rooms to create a calm atmosphere.
After that, a nurse uses an electronic instrument to locate the vein for occupational health or a one-of-a-kind push-button device to painlessly withdraw blood for medical fitness tests.
The nurse then gives the blood samples and passport to the Robot, who sends the blood samples to the lab and the passport to the GDRFA officer. The patient is then directed to the x-ray room.

Clients can wash their hands after finishing their tests utilizing an innovative Smart Wash technology that is timed to guarantee that customers wash their hands appropriately and reduces water waste by 90%.
Meanwhile, the system delivers the results to the appropriate parties in a secure manner. Customers will be able to pay via smart channels like Apple Pay, Samsung Pay, mPay, and ePay, to mention a few.
Customers can take a seat in the waiting room and have beverages and light snacks served by the vending robot, or request other products on the smart tables to be delivered by the catering robot while they wait for their documents to be ready. They can also use the tablets that are provided in the waiting room.
To eliminate errors and deliver a hassle-free experience, the consumer is confirmed at every step of the journey using facial and iris identification. Smart mirrors may also be voice operated to show any contents in the bathroom.
To eliminate errors and deliver a hassle-free experience, the consumer is confirmed at every step of the journey using facial and iris identification. Even the bathrooms are equipped with Smart Mirrors that can be voice-controlled to present any content.
The service is the first autonomous government service, and it is paperless, requires no data entry, and hence has no errors. It was introduced in line with the UAE leadership's objective of leveraging AI in serving the public to improve customer satisfaction.
Services Offered by Smart Salem
Smart Salem Medical Test in Just 30 Minutes
Smart Salem Medical Centre uses robots, artificial intelligence, and cutting-edge technology to provide the UAE's quickest visa processing.
At-Home COVID-19 PCR Testing
Smart Salem Medical Centre offers a Covid-19 fast PCR test at home, allowing you to travel outside of the UAE and into the Emirate of Abu Dhabi.
Smart Salem Medical Fitness Centre
Customers can rest assured that their medical fitness tests are being performed in a hygienic, paperless, and perfectly seamless environment and manner at Smart Salem Medical Centre, which provides fast and accurate test results as well as DHA's Medical Fitness and Occupational Health Services in a futuristic facility. Our crew of five robots assures that your visit will be hygienic, quick, and amusing, with minimum human interaction.