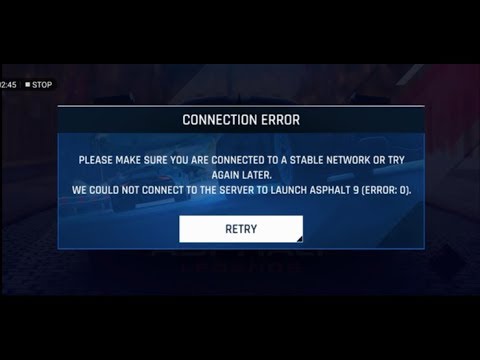 Let's learn how you can easily fix asphalt 9 cannot connect to the server with these easy and simple tips for beginners.
Many users have recently been receiving the message "asphalt 9 connection error or "Can't Connect to the Internet"  Error when playing Asphalt 9 game. The error usually occurs while the game is loading after launch or when the Asphalt 9 "Not Syncing" error persists in-game.
The Connection Error pop-up message reads the following:
Please make sure you are connected to a stable network or try again later.
We could not connect to the server to launch Asphalt 9 (Error: 0).
Here are some solutions for dealing with the connection error problem in Asphalt 9 game.
Tips to Fix Asphalt 9 Connection Error Problem/Solution
Restart the game
When you get a Connection Error in Asphalt 9 and retrying to connect doesn't work, force close the game and relaunch it.
Restarting the game will resolve any temporary issues and allow you to play without experiencing link errors.
Check your internet connection
If restarting the game doesn't work, your computer could be experiencing internet connection issues. Open a web browser app and attempt to open any website to test connectivity. The "Connection Error" is very obvious if the internet is not working.
However, if your device's internet connection is outstanding, you'll need to switch from WiFi to Mobile Data or vice versa to get Asphalt 9 to work. Asphalt 9 connectivity problems can be caused by a temporary problem with your WiFi network.
If the game loads fine when using Mobile Data, try restarting your WiFi router and see if that fixes the issue with your WiFi network.
Restart your device
If your internet connection is good but the game won't load on WiFi or Mobile Data, a forced restart of your computer could help.
Reason Why Asphalt Shows Connection Error Problem on Android
Most of the users who have complained of the Asphalt 9 'Connection Error' problem are using Android.
Please keep in mind that some games will not be completely optimized for the latest Android version when it is launched. If you have updated Android to the latest version, then the Asphalt 9 game may not work on your system. So, the solution is to wait for an update or a hotfix to resolve the issue.
You can also try the other methods we have listed to solve the Asphalt 9 'connection error' problem.
Asphalt 9 Connection Error on Windows
If you are facing the Asphalt Connection Error problem on Windows system, then here is how you can get it fixed.
Terminate Game 
Open the game
Go to the Windows search bar / icon
Search "Asphalt 9" icon and it will show up in the Windows search
Right-click on the game icon and select "App settings"
Simply click on "Terminate" and it will terminate your game.
Now reset your game and it will "Reset" the game data
Open the game again
Go to Asphalt settings and recover you game data from the cloud
Use a VPN Server
Many Asphalt 9 gamers have reported that the connection error problem was solved by using a VPN server. So, here is what you need to do:
Get a free VPN on your Windows system or Android phone (wherever you are using the game)
Quit the game and connect the VPN
Now enter the game again
This will solve your 'Connection error' problem
That's everything we know about addressing Asphalt 9's internet connectivity problems. If you have any suggestions for solving this issue, please share them in the comments section below.