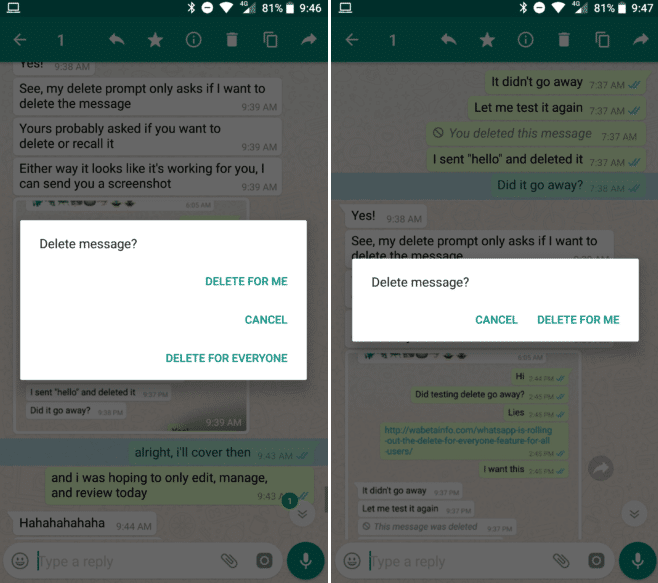 It is now easier to delete messages from Whatsapp instead of facing the embarrassment. Just click 'delete for everyone'
Whatsapp has enrolled a new feature that lets users delete sent messages. Previously, this functionality wasn't available on the website but thanks to the new update, the users can delete messages from everyone's mobile by just a single click.
Here is how to delete whatsapp messages after accidentally sending them
Either in a group chat, or in an individual discussion link, if you send a message by accident you can easily delete it.
Just click on the right-arrow next to the message that you want to delete and press it.
A few options will be made available to you.
Select, 'delete for everyone'
You can also select 'delete for me' if you just want the message to be deleted from your screen.
Please note that this is only available for a limited time and you won't be able to delete the message after some minutes have passed.
After the message is removed when you select 'delete for everyone,' the message will be replaced by 'this message was deleted.'
It is pretty similar to what happens on Skype.
Skype allows the message to be deleted and replaces the text with: This message was removed.
Whatsapp Delete Message Feature
The whatsapp new feature will save a lot of people from embarrassment, who often end up sending the wrong message to the wrong group or recipient, and then have to face the consequences.
Now, with whatsapp delete message feature, they can easily remove the message from the feed of both recipient and sender.
The users will only have to tap and hold the message they want to remove and choose delete option.
Whatsapp terms for deleting messages:
Users must have the latest version of whatsapp installed on their computer or smartphone.
The latest version of the software can be downloaded from the website or from the Google play store or IOS app store.
Most people have said the feature is slow.
Make sure that you do not right anything offensive to anyone because the receiver can still take the screenshot of your message. The feature can delete all including text, images and videos.